101 Fun things to do in the Scottsdale and Phoenix area.
One of my beloved clients asked... "What is there to do in Phoenix???" Well, I wanted their family to have a great time while in the Phoenix and Scottsdale area, so I put together a little list - with some help from some contributing writers.
Enjoy the list and please feel free to send suggestions for more fun things to do in this wonderful city.
COURTESY of REALTOR - Michael Chaisson, Realtor, RL Sotheby's International Realty— For over 15 years I have been recommended to help singles, couples and families enjoy the best of life! To enjoy this lifestyle and view homes for sale near any of these fun activities offered in Paradise Valley, Scottsdale and Phoenix please call me for 5 STAR Realtor services-Michael Chaisson at 480-450-4632 Note: Join the Scottsdale AZ Community page on Facebook.
CATEGORIES
Family Fun
Dining Adventures & Wine Adventures – Including Theme Restaurants and Dinner Theater
Art and Culture- Architecture Tours
Concerts and Big Events - Home shows – Are always here in Phoenix see- Ticketmaster
Car Buffs- Shows and Activities
Get Out and Play at Night- Nightlife – 18 to 65 including
On-Going Scottsdale activity events-
Beat The Heat Activities-
Staycations Top Picks
Resort Pool Parties
Patio Bars
Adventure Seekers
Clubs and meet up groups
Charities
Sports
Happy Hours
Hiking Biking And Fitness
Parks and Recreation
Lakes and Boating- Kayak
Nearby Travel Destinations
Spa Days -
Education Opportunities Including From World Renown Ballet Instructors to Popular cooking Classes.
Yearly events and Festivals Calendar
PLEASE NOTE SOME ACTIVITIES MAY BE LISTED IN TWO OR MORE CATEGORIES.
FAMILY- FUN THINGS TO DO
Scottsdale is full of fun things to do with the family. One of the hot-spots for family fun is Cracker Jax. From go-kart tracks and a bungee dome to water wars and bumper boat lagoon, your family will have a blast at Cracker Jax. You can even have a more relaxing visit by playing miniature golf, checking out the arcade, or a family lunch at the restaurant. It's a fun day to be had by all. https://crackerjax.com/
MAGIC SHOWS
Davis Circus of Illusion Master illusionist Craig Davis and renowned, award-winning dancer Myryka combine the artistry of grand illusion with the spectacle of the circus in this acclaimed show. On Saturday's CALL for times and days. Wonders of the World Theater @ Cattle Track, Scottsdale, AZ https://tickets.daviscircusofillusion.com/ FIVE Star reviews from Google
SKYDIVING INDOORS - I Flight – Indoor Skydiving
Yes… feel like Skydiving but only 5 feet off the ground? iFLY Flight School Summer Academy Flight School is the most rewarding way for kids ages 4-16 to experience the power of flight. Through one-on-one coaching, each Flight School student learns a progression of flying skills in a fun group setting. 9206 Talking Stick Way Scottsdale, AZ $249.95 Check for new prices but this looks like BIG fun! https://www.iflyworld.com/
ELECTRIC BIKES- For fun
Phat Rides USA - Electric Bike Rental - Enjoy Scottsdale's landscapes and sights that give you a rush without breaking a sweat! If you're looking for adventure, there's no better way to tour Scottsdale, and the surrounding areas, then with Phat Rides USA. It is the only electric bike and scooter rental company in Scottsdale that offers the RadRover, RadMini and Phat Scooter. 3616 N. Scottsdale Rd. Scottsdale, AZ
(480) 431-2230 Mon-Sat 9:30 am-5: 30 pm. Call first.
RETAIL THERAPY -
SCOTTSDALE FASHION SQUARE MALL
At Scottsdale Fashion Square shoppers can enjoy upscale amenities, luxury brands, exclusive entertainment & quality of service. Visit our shops today! http://www.fashionsquare.com/
TEMPE MARKETPLACE
Tempe Marketplace is an open-air shopping center located in Tempe, Arizona.
https://tempemarketplace.com
DESERT RIDGE MARKETPLACE
All the big stores are in and several boutique shops and lots of play areas for the kids and
movie theaters. http://shopdesertridge.com/

DISCOUNT FASHION SHOPPING. CALL ME – Michael Chaisson Realtor 480-450-4632
for the best Outlet shopping bargains.
KIERLAND OUTDOOR SHOPPING
Stylish outdoor shopping center with upscale designer shops, restaurants & bars. http://www.kierlandcommons.com/
VINTAGE RETAIL THERAPY
Grab a friend or a creative family member and go vintage shopping, Scottsdale and Phoenix have over a hundred fun, cool and unique vintage retail and consignment stores. The Melrose District at 7th Ave and Indian School is hopping and the BEST area for vintage shopping in the Phoenix area..
MORE FAMILY FUN -
MCCORMICK STILLMAN PARK
Go for a ride on the Chew-Chew Train plus enjoy many other fun activities such as the Carousel rides. To learn more see the website http://www.therailroadpark.com/
WATER PARKS -
There are several great water parks in Arizona and these water adventure parks are FUN.
Below are the top two. Please Google to fully explore water parks near you.
The OASIS WATER PARK
The Oasis Water Park at the Arizona Grand Resort has been voted as one of the "Top 10 Water Parks" in the country by the Travel Channel. The fun, wild, and expansive water park offers something for guests of any age, making the resort a great choice for a family vacation. Spreading across seven acres, the park features giant water slides, a 25-seat hot tub, a huge wave pool, the Wild Cat Springs kiddie area, a side-by-side active river and more. The Slide Canyon eight-story tower is one of the most thrilling attractions at the Oasis, consisting of three exciting water slides. 8000 S. Arizona Grand Parkway Phoenix, Arizona 85044, Phone: 602-438-9000
THE POINTE HILTON SQUAW PEAK RESORT
The Pointe Hilton Squaw Peak Resort in Phoenix, Arizona is home to the River Ranch Water Park. The resort offers fun in the sun, a relaxing spa and Coyote Camp, an award-winning kids camp. The River Ranch includes pools encompassing four acres, water slides, a lazy river, tennis courts, and miniature golf. The mountainside resort provides activities for visitors of all ages, making sure the entire family is entertained. Refreshments and poolside activities are offered, as well. All accommodations at the Pointe Hilton Squaw Peak are suites, offering an abundant amount of space for families or groups. 7677 N. 16th St, Phoenix, AZ 85020, Phone: 602-997-2626
NIGHTTIME WATER PARKS - Skip the sunscreen and hit the slides after dark at Night Splash on select days of the week. INCLUDING AT 155 W Hampton Ave, Mesa 85210 480-834-8319 Several water parks offer nigh time play so check around for all the great options.


OPEN AIR GOLF CART RIDES - TAKE A FRIEND
There are so many fun things going on in Old Town Scottsdale, here is another fun Old Town Scottsdale excursion, ... If you are not in the walking mood, you can feel the wind in your hair, not exactly in a Ferrari comfort but you can pretend; and go visit a number of old town fun spots with Joy Rides AZ..which is a fun and inexpensive way to get around! Two of the biggest are http://www.scottsdalegolfcartrentals.com and Joy Rides AZ Check it out! https://www.joyridesaz.com/local-services
****If you are out and about please feel share those awesome places with us ****

GRAP A TROLLEY RIDE WITH THE FAMILY
Looking for a fun and informative thing to do and Scottsdale Arizona? Try taking the Scottsdale trolley. The Scottsdale trolley is a free transportation system for residents and visitors to downtown Scottsdale, entertainment venues, restaurants, events, schools, parks, hospital/medical facilities shopping and other locations. There are 5 routes in the Scottsdale trolley offers the option to transfer between the various routes. There is also a Tempe orbit Earth and Valley Metro routes.To plan your trip visit Valley Metro.org or www.scottsdaleaz.gov/trolley
ATV – DESERT TRAIL TOURS. When it comes to outdoor activities, Desert Trail Tours leads the pack as it boasts amazing packages and outdoor activities that both locals and visitors will find it hard to find somewhere else. Desert Wolf Tours have been ranked the Best Off-Road ATV Adventure Tour for six years in a row, Hit the OFF, off road riding in Tomcars/Atv surrounded by beautiful natural Sonoran Desert with Tomcars. You can expand the adventure by participating in shooting competition or teaming up with others on a rescue mission and to pin down a hostage courier. All fun check out https://desertwolftours.com/
HORSEBACK RIDING
Here are a couple of highly reviewed spots for more, please check with our friend Google
CAVE CREEK Outfitters has something for everyone: guided horseback rides, cowboy cookouts, authentic cowboy games, old west entertainment, corporate events, private parties and so much more! Our fantastic location is conveniently located in North Scottsdale near most Arizona resorts, hotels, shopping and airports. We are open all year long, so join us today! http://www.cavecreekoutfitters.com
MACDONALD Ranch Horseback Riding. This group has it all, stagecoach rides, cowboy cookouts, Hayrides, a petting zoo and wedding ceremonies Yeehaw !! http://www.macdonaldsranch.com/
TOP GOLF VENUE. Fun for the whole family and based on all the photos I have seen great for date nights too. Players get to hit the balls or as they describe it, "Sprawling entertainment venue with a high-tech driving range & swanky lounge with drinks & game" https://topgolf.com/us/riverwalk/

ICE SKATING Ice Den
Here's a place you'll really get cooled off at. The Ice Den Scottsdale offers public ice skating and youth/adult hockey! Private lessons are offered. You can try your skills at figure skating or speed skating. Ballet classes are even offered since this technique helps in learning to figure skate. https://www.icedenscottsdale.com/
ODYSEA AQUARIUM
OdySea Aquarium in Scottsdale is a marine aquarium, and the largest aquarium in the Southwest United States, It holds more than 2,000,000 US gallons (7,600,000 l; 1,700,000 imp gal) of water and spans over 200,000 square feet (19,000 m2). There are over 30,000 animals and 500 different species in 50 exhibits. The aquarium offers an educational, interactive and entertaining experiences for guests of all ages. The aquarium offers a 3D movie, SeaTREK underwater ocean walking, and a Living Sea Carousel which takes guests through the Open Ocean, Sea Turtle, Sea Lion/Seal and Shark exhibits. Its features include 9 massive globe-shaped aquariums suspended from the lobby ceiling, a giant martini glass shaped aquarium, and a submerged escalator allowing guests to descend deep into the ocean while surrounded by thousands of aquatic animals. The restrooms are notable for have viewing windows into the shark habitat.
ESCAPE ROOM- Challenge Game
Yes,there are escape games and the reviews sound like they are fun.. Here are two you may want to check out. https://riddleescaperoom.com/ 4.9 stars and https://escapetheroom.com/phoenix/ with 4.7 stars at last check. What is "Escape Room" ? It is a FUN game concept designed for small groups of friends, families, co-workers or strangers to test their problem-solving skills in a fun themed escape room. Each Escape The Room AZ experience has its own setting, secrets, storyline, and escape route. It's filled with hidden objects and clues to help you find your way out, You have 60 minutes to find the clues, solve the puzzles and escape the room to find your freedom!
BATTING CAGES - Batting cages are a blast for the whole family. There are over 25 in the Scottsdale -Phoenix area. You can Google to find a highly rated one near you.
GLOW KAYAKING at Tempe Town Lake Get your glow-sticks...err, glow paddles ready!. The City of Tempe offers kayaking with glow-in-the-dark accessories on select Friday nights throughout the summer. 550 East Tempe Town Lake, Tempe 85281 480-350-8069 AND There are a number of other options for Kayaking by moonlight including on the beautiful Lake Pleasant.


GONDOLA RIDES - This night just be a romantic adventure for mom and dad but ...maybe the whole family can fit
Transport yourself to the romantic waterways of Venice aboard four authentically handcrafted Italian Gondola boats steered through the beautiful waterways of our resort by professional Gondoliers- These classically trained singers will provide an Italian serenade as you cruise through the resort's seven-acre lake. Celebrate special events such as weddings, anniversaries, engagements, romantic dates or just FUN This is available at the Hyatt Regency Scottsdale resort. Call for prices. Address: 7500 E Doubletree Ranch Rd, Scottsdale, AZ 85258 Phone: (480) 444-1234
MOVIES – In Luxury settings
Scottsdale and Phoenix have some of the most beautiful theaters in the country, huge recliner seats, bar and food service and so much more here are just a few picks. Google .
IPIC Movie Theater in Scottsdale. Luxury reclining seats, dine and beverage service.
https://www.ipictheaters.com/#/home/7
ROADHOUSE Cinemas Welcome to RoadHouse Cinemas, Arizona's only locally-owned and operated, first-run, dine-in movie theatre! We would like to invite you to a movie and dining experience found nowhere else in the state! Open 365 days a year, RoadHouse offers an extraordinary restaurant menu created by an award-winning chef and restaurateur, an impressively creative full bar featuring high quality wines and Arizona craft beers, and overwhelmingly comfortable recliners, all to be enjoyed while experiencing state-of-the-art digital projection and 7.1 Dolby Digital Surround Sound!https://roadhousecinemas.com/
MOVIES – IN STYLE
Private Movie Theatre. The ultimate Movie Experience. Harkins Movie Theatre – Scottsdale AZ- it's a movie experience like no other. With 16 luxury reclining movie seats, a total of 24 people can be inside the theater and watch any movie you'd like, even live television. The theater will cost you $900 for three hours but includes popcorn, non-alcoholic drinks, your own personal attendant and whatever you'd like to watch. Guests can purchase alcoholic beverages along with additional hot and snack food items for extra. The screening room is so luxurious, it's the most expensive theater on a per-foot basis ever built by Harkins Theaters and is the only one in the company located at the Harkins Scottsdale Camelview Theater at Fashion Square location. To book this luxurious theater known as the "The Freezer," call (480) 285-1347 or visit www.Harkins.com. Reservations are required. See the video at https://www.abc15.com/news/region-northeast-valley/scottsdale/see-inside-harkins-private-luxury-movie-theater-in-scottsdale
MORE Favorite Theatres
The Harkins Theater in the fashion square https://www.harkins.com/locations/camelview-at-fashion-square
The AMC Theatres at Desert Ridge https://www.amctheatres.com/movie-theatres/phoenix/amc-desert-ridge-18
We are here to give you a taste of the best of the Scottsdale living experience. For more ideas movie theaters near you Google is a friend.
TALK CINEMA - Independent Movie Previews with Discussion.
Be first to be entertained! Preview yet-to-be-released indie films curated by film critic Harlan Jacobson and discuss with some of our nation's best scholars and critics. See films as industry insiders - without preconceived ideas - then discuss with your host and other special guests. And join us as we explore exclusive destinations for some of the world's most exciting international film festivals. https://talkcinema.com/
REALTOR - Michael Chaisson, Realtor, RL Sotheby's International Realty— To enjoy this lifestyle and view homes near any of these fun activities offered in Paradise Valley, Scottsdale and Phoenix please call Michael Chaisson at 480-450-4632
NEWS BREAK -
Scottsdale Community News- Our Park is Awesome
Scottsdale ranks high in a nonprofit report on national parks and amenities. Every year, the Trust for Public Land publishes a report on parks in the nation's 100 largest cities. The data includes information on the best park amenities like playgrounds, splash pads and dog parks, in addition to trends on park investment, access and quality. According to the report, Scottsdale claims five top-ten rankings. They are: having the largest city park, the McDowell Sonoran Preserve; tying for sixth for parkland percentage with 25 percent; and ranking second in trail miles, sixth in volleyball nets and seventh in golf courses. The mission of the organization is to create parks and protect lands for people, ensuring healthy, livable communities for generations to come. Get more information about city park
Dining Adventures Scottsdale -Paradise Valley
MOWRY & COTTON WEEKEND BRUNCH at the Phoenician
Treat yourself to Weekend Brunch at Mowry & Cotton. Swing by this Saturday or Sunday with at least a party of three, and choose your favorites from our Porch Party menu while enjoying 50% off select brunch beverages. Kick back, take a sip and savor everyone's favorite meal of the summer. From post Aug.18th
SUNDAY SUPPER CLUB Offered By Mountain Shadows
Resort. One Sunday a month, The mountain shadows resort features an incredible winery, distillery or local purveyor. Savor four courses thoughtfully paired with beverages and enjoy conversation from Chef Charles Wiley and the special guest. We are teaming up with Long Meadow Ranch, a California family-owned-and-operated winery that believes in organic, sustainable farming. Every Sunday- Call first for Reservations update Mountain Shadows5445 E. Lincoln Drive, Scottsdale, AZ $$$$ per person, plus tax & gratuity
Reservations: https://www.mountainshadows.com/r…/events/sunday-supper-club
PLACES IN PHOENIX... YOU WISH WERE IN SCOTTSDALE.
Best restaurants include;
RUSCONI'S
I just had the pleasure of dining at Rusconi's American Kitchen. Although not technically in Scottsdale, Rusconi's has really excellent food. I may be a bit biased because the chef's first name is "Michael"
If you have any favorite spots please feel free to share. I Love letting others know about the "Best of Scottsdale" .
RICHARDSON'S
I love the food at Richardson's Restaurant in Phoenix near 16th St & Bethany Home Rd! EXCELLENT! Every menu item is delish.. Hope you get a chance to visit. I only wish Richardson's would open a second location in Scottsdale. BTW.. If you have a favorite place(s) in Phoenix or anywhere.. that you wish were in Scottsdale, please share.
Pa'La
2107 North 24th Street Pa'La is a temple of simple and elegant wood-fired cooking, highlighting impeccably sourced ingredients. The casual counter-service restaurant, a collaboration between veteran chef Claudio Urciuoli and Tortas Paquime's Omar Alvarez, delivers a menu that is relatively modest in scope: just Spanish tapas, wood-fired Italian schiacciata flatbread, salads, and Urciuoli's signature Navarro bowl, made with heirloom grains and topped with responsibly sourced ultra-fresh seafood.
BINKLEY'S - Binkley's Restaurant feels like a worthy risk. Binkley works closely with his small culinary team to prepare elaborate, 20-plus-course dinners, which are crafted using optimal ingredients and served in a highly intimate setting. The chef pulls out all the stops, offering diners a direct view into the kitchen and mingling with guests throughout the three- to four-hour dinner service.
WINE ADVENTURES
Check out the Scottsdale Wine Trail! For all the wine lovers more fun excursions! Please feel free to share your Scottsdale News and events. Downtown Scottsdale is a destination for Arizona wine tasting! Four Arizona wineries with tasting rooms within walking distance in downtown have joined forces to launch the first ever "Scottsdale Wine Trail." Get the map and more info at the website: http://www.scottsdalewinetrail.com/
FLIGHT & BITE WINE WEDNESDAY
Sorso Wine Room 15323 N. Scottsdale Rd., Ste. 150 Scottsdale, AZ Every Wednesday enjoy a flight of 3 wines from our Wine Emotion dispensing system along with any salad or sandwich for only $20! August 8 @ 11:00 am - 10:00 pm CALL to check schedule and cost.
TOP TEN BREAKFAST Spots in SCOTTSDALE and a shout out to our neighbors' BEST breakfast.
Here we go everyone.. Top restaurants depending on your mood.
Best outdoor patio and lively vibe inside
1. OLIVE and IVY near fashion square has it! Watch the world go by from their awesome patio overlooking this beautiful waterfront location, pretty to enjoy with family and friends. A very nice setting. https://www.foxrc.com/res…/olive-ivy-restaurant-marketplace/
2. EGGSTASY in Scottsdale has a fun outdoor patio with lots of comfortable lounge seating. Think big cushions with a BIG breakfast SOOO you will not leave hungry. http://www.eggstasyaz.com/
3. ARCADIA FARMS in Old Town is as charming as it gets for patio dining. Bring a new love interest or a lucky steady. http://arcadiafarmscafe.com/ ( serves breakfast 7:45 to 10:45 )
4. BREAKFAST CLUB. Feeling like a big breakfast in a place that's always busy with a great staff and hearty breakfast? If so, you'll love the Breakfast Club in Old Town Scottsdale. Always rated in top the ten and usually busy! http://breakfastclub.us/
5. BUTTERS CAFE. How about keeping Butters Pancakes and Cafe on the list of the Top Ten as always serving old time favorites with a smile. Always a 45-minute wait on weekends. A standard looking diner, nothing fancy but consistently a pleasant breakfast. http://butterscafe.com/
6. DAILY DOSE in Old Town Scottsdale also makes our top ten a really comfortable place in Scottsdale. It's a busy, almost bar style atmosphere that's worth a visit. http://www.dailydosegrill.com/
7. SUGAR JAM BAKERY. How about some baked goods with your tasty breakfast? A super small place but yum! Try the Sugar Jam Bakery and Bistro. https://www.sugarjamcookies.com/
8. HASH KITCHEN - Want a combination of fun, music and great food? Hash Kitchen is the place. Catch the DJ on weekends and "beyond the regular fair menu." Good food and fun. If you have friends visiting from out of town this would be enjoyable. https://www.hashkitchen.com/
9. LA GRANDE ORANGE. How about celebrating the tasty foods from our TWO great neighboring cities. The VOTE for best breakfast from a great close neighbor is a tie between the awesome breakfast at La Grande Orange or lovingly known by the Arcadia neighborhood as LGO, an eclectic menu of healthy, tasty creations served in a casual fun atmosphere. http://www.lagrandeorangegrocery.com/
9B CHELSEA'S KITCHEN - Best Breakfast from a neighbor also goes to Chelsea's Kitchen in Arcadia, Food is Scrumptious and patio wonderful. http://www.chelseaskitchenaz.com/
10. MIMI'S Café - Best Breakfast for our North Scottsdale family is Mimi's Cafe located near the Loop 101 and Shea and in North Phoenix in the Desert Ridge shopping center. Oh, so delicious. http://mimiscafe.com/
YES.. It's a chain but it is tasty.
11. CHEZ VOUS And let's not forget the 'French breakfast cafes' in Scottsdale. Both Chez Vouz (central Scottsdale) http://www.chezvous.restaurant/ and Merci (south Scottsdale) http://www.mercifrenchcafe.com/ serves tasty, fresh breakfast in quaint spaces. Twelve or less tables.
12. JEWELS CAFE -BONUS Breakfast spot- Best Pancake Syrup in the southwest and Bottomless Mimosa with an Entrée order at Jewels Café in Arcadia, AZ. I do not give reviews here..but FYI.. the kitchen is suuuuuupper slow.
So be prepared to enjoy chatting with whomever you go with.
REALTOR - Michael Chaisson, Realtor, RL Sotheby's International Realty— To enjoy this lifestyle and view homes near any of these fun activities offered in Paradise Valley, Scottsdale and Phoenix please call Michael Chaisson at 480-450-4632
EXTRA HEALTHY
KALE AND CLOVER - I'm always looking for ways to eat more healthy, and that includes eating at and supporting great Scottsdale restaurants. Kale & Clover in Scottsdale was recommended, especially for breakfast. Enjoy! Great place to take a group of friends www.kaleandclover.com
Enjoy all of these and please tell us your favorites spots in Scottsdale and Phoenix.
FUN THEME RESTAURANTS - A FAMILY FOODIE ADVENTURES
Courtesy Of Phoenix New Times (online and Print) And a great source for reviews and activities
in the Scottsdale and Phoenix area.
The DUCE 525 South Central Avenue
The Duce is the perfect place to take friends or family who can't seem to make up their minds. The downtown restaurant is a veritable shopping mall of different food and drink options, stores, and even exercise areas. The menu ranges from home-cooked Southern favorites like mac-and-cheese muffins to brisket sliders. At night, the spot turns into a Prohibition-era themed bar complete with discount beverages and activities for all. Like food, drinks range from affordable cans to intricate cocktails. There's also a boxing gym right in the middle of the space. Perhaps even more enticing (and dangerous) than the boxing ring after a few drinks in the shop in the corner of the place which offers clothing and home decor at surprisingly reasonable prices. BY SARA WEBER
ORGAN STOP PIZZA
1149 East Southern Avenue, Mesa
Production of the Mighty Wurlitzer organ ceased in 1943, but one restaurant in the Valley boasts an original model and treats guests to a concert each night. At Organ Stop Pizza in Mesa, you can enjoy a side of music with your meal. The musicians play on an elevated stage that even transforms into a light show on occasion. Tunes include classics for adults and familiar tunes for the kids — and for the little ones with short attention spans, there's also an arcade. The family-style dining experience carries into the kitchen, where staff creates pizzas of your choosing. There are also pastas and gluten-free options. Organ Stop's roster of musicians play a mixture of classic and kids' songs throughout the evening.
HULA'S MODERN TIKI
7213 East First Avenue, Scottsdale
4700 North Central Avenue (for now)
Hula's Modern Tiki is a fun take on '50s Polynesian restaurants you won't find elsewhere in the stateMad Men fans would be remiss to skip Hulas Modern Tike '50s Hawaiian-inspired restaurant serves Polynesian fare and creative cocktails that appeal to every taste. Patrons of all age are welcome, as the menu caters to kids and adults looking to branch out of the ordinary. A sleek dining room and bar create a luau vibe that's anything but kitschy. Tiki masks decorate the walls, but don't expect grass skirts or "Somewhere Over the Rainbow" on repeat in the background. Hula's currently has two locations, one in Old Town Scottsdale and a midtown Phoenix location. Hours vary depending on location, but both are open for lunch, dinner, and after-dinner drinks, as well as weekend brunches. (Note: The current Phoenix location of Hula's will be open through Saturday, September 8. The restaurant will then close, and reopen at 5114 North Seventh Street later in the month.)
The Stockyards Restaurant and 1889 Saloon 5009 East Washington Street, #115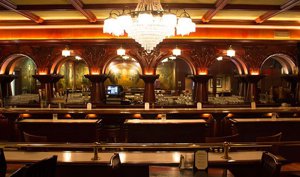 Enjoy a cold one in The Stockyards' warmly decorated and mural-covered saloon. The Stockyard is an embodiment of the classy cowboy joint, meaning you'll want to shine your boots a bit before visiting this one. Locally known as Arizona's original steakhouse, The Stockyards has served classic Western dishes since 1947. Listed in the state's Historical Register, The Stockyards was built on the famous Tovrea Land and Cattle Company's property. After a fire in the 1950s and a renovation in the early aughts, the restaurant has remained a staple in the local scene. The kitchen covers everything you would expect from a steakhouse but ups the ante with some more exciting options including elk, buffalo, and boar. And if you like Rocky Mountain oysters, you might try the "calf fries," which follow the same recipe but come from younger cattle. BY SARA WEBER
Rustlers Roost 8383 South 48th Street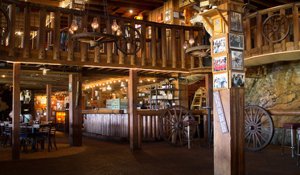 Rustler's Rooste is likely the most carefree cowboy bar you'll ever visit. The massive restaurant offers steak dinners, fish options, ribs, and rattlesnake, plus, every table gets a hearty post-dinner serving of cotton candy. Inside the restaurant, you can wander around two stories and slide down the famous slide. Outside, you can hang out on the balcony, where you will catch a nice view of Arizona's mountains and — if you time it right — a breathtaking sunset. It's a family-friendly spot and can be reserved for private parties or receptions. The saloon opens at 4 p.m. and stays open late; the steakhouse serves from 5 to 10 p.m. Oh, and don't forget to say "Hi" to Horney the Bull at some point while you're there. You can't miss him. AND...There's plenty of room for two-stepping at Rustler's Rooste. BY SARA WEBER.
MacAlpine's Soda Fountain and Espresso Bar 2303 North Seventh Street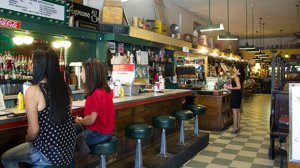 For those looking to step back in time and enjoy an ice cream soda or homemade Cherry Coke, MacAlpine's in central Phoenix is the place to go. The small restaurant, flanked by a vintage clothing shop and home decor store, serves an array of old-school meals ranging from hot sandwiches to comfort food-based meals. But it truly excels in its construction of dessert-based drinks. Guests can get the full experience by playing the shop's old jukebox, which carries all the biggest hits from the '50s and '60s. Pin curls are encouraged, but not required. MacAlpine's in Phoenix is the perfect spot to grab a milkshake or malt and do a little vintage shopping.
Islamorada Fish Company 1133 North Dobson Road, Mesa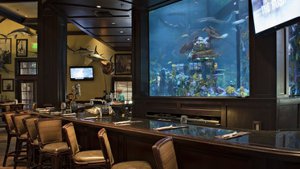 This quirky and cavernous seafood-themed restaurant is attached to the Bass Pro Shop in Mesa. From the outside, Islamorada Fish Company resembles a grand sportsman's lodge, complete with log-cabin siding, an impressive wraparound patio, and nautical motifs at every turn. The entrance is flanked by oversize, ornamental fishing net floats, and inside, there is a large and hypnotic 13,000-gallon aquarium tank stocked with a bright array of tropical fish. The menu, naturally, includes seafood options like Atlantic salmon, shrimp, tilapia, catfish, and grouper, along with a stable of chain restaurant staples, including pasta, steak, sandwiches, and salads. More interestingly, the menu features a selection of wild game, including alligator, venison, and wild boar. Islamorada's bar and fish tank. Written by Jackie Mercandetti
Harolds Coral 6935 East Cave Creek Road, Cave Creek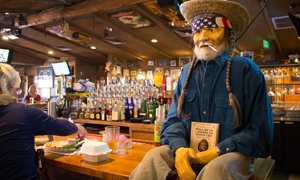 As you drive up Cave Creek Road and pass through the arid desert landscape, you'll eventually find yourself in a town full of colorful vintage shops and cafes. You'll also eventually become surrounded by dive bars, each one boasting the best food and strongest drinks. It's very important that you drive past them and turn right into Harold's Cave Creek Coral You can't miss it; it has the biggest sign out front and looks the most authentic. The drive out to Harold's Corral is a clue to the atmosphere you'll find at the cowboy bar and restaurant. Harrold's usually houses a relaxed but colorful crowd who seem to know each other and yet accept everyone as a family — especially if you're a Steelers fan. You can get traditional cowboy dishes (meaning countless types of steaks and other various red meats). There's also an in-house popcorn machine. After dark, Harold's turns into a haven for those looking to two-step their troubles away. Lonely bar guests at Harold's Corral always have the option of sitting next to the realistic, definitely-not-terrifying model of Willie Nelson. BY SARA WEBER
Culinary Drop Out at the Yard
5632 North Seventh Street, #150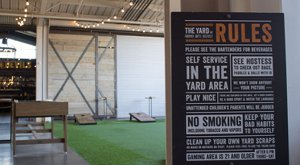 Culinary Dropout provides guests with all kinds of yard games such as cornhole, giant Jenga, and ping pong, plus drink deals that'll make you feel like you're drinking at home. During the day, you can find charcuterie boards and loaded sandwiches, while the dinner menu incorporates hearty classics like 36-hour pork ribs and rainbow trout. Over the weekend, you can start your day with dishes like Captain Crunch French toast and a little hair of the dog. There's live music on weekends. Culinary Dropout's kitchen staff cooks up comfortable tailgating favorites. Cocktail and drink prices are reasonable. Be a good sport at Culinary Dropout BY SARA WEBER
Rawhide Steakhouse 5700 West North Loop Road, Chandler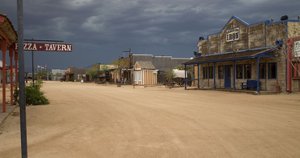 Rawhide isn't just a theme restaurant; it's a theme town. Relocated to Chandler from north Scottsdale in 2006, the little Western town has everything you could need for a night of cowboy fun and flair. There are bars, a jailhouse, and gift shops, but what really stands out is the massive steakhouse. The Rawhide Steakhouse and Saloon is decorated with vintage instruments and hunting trophies, wagon wheels and spurs. Full disclosure: the portions are big. Steak sizes range from six to 16 ounces and, for those who live to compete, there's the Ultimate Cowboy Challenge. Hopefuls for the challenge should anticipate eating three pounds of steak in 45 minutes or less. Other menu favorites include the Rawhide Rattlesnake (it tastes like chicken) and the bacon-wrapped meatloaf. Though there are honky-tonk bars and saloons inside the restaurant, Rawhide is family friendly, and kids menus are available. Rawhide is a step back into the wild west that the whole family can enjoy. BY SARA WEBER
REALTOR - Michael Chaisson, Realtor, RL Sotheby's International Realty— To enjoy this lifestyle and view homes near any of these fun activities offered in Paradise Valley, Scottsdale and Phoenix please call Michael Chaisson at 480-450-4632
ROMANTIC RESTAURANTS SCOTTSDALE AND PHOENIX
BEST- MOST ROMANTIC RESTAURANTS- THE LIST. The Top 7 !!

#1 Monarch Cafe in Old Town Scottsdale.. if you are NOT already married when arrive.. you may be by dinner's end🙂.
#2 Elements Restaurant in Paradise Valley.. This is a beautiful setting and beautiful views! After dinner enjoy the music in the bar.. Bartender Hurley is a prince and will make you feel a King and Queen !
# 2 Lons Restaurant at Hermosa Inn.. Beautiful setting.. very romantic! but.. I have to share.. in the three times I have been there, food as always been below average... but who needs food?... when you have love, a beautiful setting and great wine.
#3 El Chorro .. wowsa !! Such a lovely setting you almost feel transported to a beautiful vacation spot. Snuggle up and enjoy..
#4 Prado Restaurant at the Montelucia resort.. From their web site, it is well described "Prado is a picturesque restaurant reminiscent of an old world dining room. Guests are invited to embrace the engaging ambiance indoor and outdoor seating w/ views of Camelback Mountain, Mbar lounge, two private rooms including Ferdinand's Wine Cellar.
#5 Binkleys Restaurant .. widely known for it's taste world class taste. $$$$$.
#6 Citizen Public... a pretty setting with a contemporary vibe.
#7 A Different Pointe of View...NOW for those of you who LOVE views this may be number #1 .. One of my dear friends and clients recommended it. A Different Pointe of View is AAA Four Diamond award winning restaurant with spectacular views. See their web site for more accolades.
DINNER THEATER
Deadly Housewives: Murder Mystery Dinner Theatre With a "Desperate" Twist
Read Google reviews before going and check group on for savings coupons.
Fridays Call for schedule (602) 845-0503 / 7:30pm (Doors Open at 7:00pm)
Orange Tree Golf Club 10601 North 56th Street Scottsdale, Arizona
Post From Aug. 15th
ART AND CULTURE
SCOTTSDALE MUSEUM OF CONTEMPORARY ART. Dive into this immersive experience at the Scottsdale Museum of Contemporary Art for a limited time only. Who doesn't love new art installations? Scottsdale Museum of Contemporary Art
7374 E 2nd St Scottsdale, AZ $10 admission, FREE on Thursdays- Verify Prices and Schedule
Hours and more info: https://smoca.org/visit/plan-visit/
SCOTTSDALE'S MUSEUM OF THE WEST-The artwork reflects how contemporary artists continue to push the boundaries of their work, while also staying true to time-honored methods.Western Spirit: Scottsdale's Museum of the West 3830 N. Marshall Way Scottsdale, AZ 85251
Admission and hours: https://scottsdalemuseumwest.org/visit/museum-hours/
SCOTTSDALE PUBLIC LIBRARY- Feel Like a reading adventure, Pop into the Scottsdale Public library. Books and Computers available for locals and Guest.
ART WALK – Old town Scottsdale _ Every Thursday Evening 6pm and On. Tour Many of Scottsdale
best galleries in Old Town Scottsdale
PHOENIX FIRST FRIDAY'S ART WALK
The popular First Fridays Art Walk in downtown Phoenix is in the summer with more than 70 art galleries and venues open for touring. Google for more details
ARCHITECTURE TALIESIN WEST - Frank Lloyd Wright's winter home- Tours Available – See more at https://franklloydwright.org/taliesin-west/
MUSICAL INSTRUMENT MUSEUM. This is WAAAY cooler than you might think. Check it out at
http://www.mim.org/?utm_source=local&utm_medium=organic&utm_campaign=gmb
SCOTTSDALE CENTER FOR THE PERFORMING ARTS- Music, Dance, Artistic Readings and more. Always something creative and experiential going on here. Call for latest and greatest in performances. www.scottsdaleperformingarts.org/
SCOTTSDALE PHILHARMONIC- Yes, You can enjoy the Symphony in Scottsdale. This is an incredible musical experience - www.scottsdalephilharmonic.com/
ART AND CULTURE TOURS – Hop aboard the trolley and experience a tour of arts area of Scottsdale and many more tours to win you over . See https://ultimatearttours.com/tours/
REALTOR - Michael Chaisson, Realtor, RL Sotheby's International Realty— To enjoy this lifestyle and view homes near any of these fun activities offered in Paradise Valley, Scottsdale and Phoenix please call Michael Chaisson at 480-450-4632
TOP TEN NEIGHBORHOOD TOURS - Midtown Urban Living Tour
The Midtown Urban Living Tour is for the hip Phoenician, the one who rides bikes and loves high-rises that offer spectacular views of those Arizona sunsets. The third annual Urban Living Tour will be held on Saturday, November 7, between 11 a.m. and 5 p.m. and will cost $15 to attend. The self-guided tour will meet at the Regency at 2323 North Central Avenue and then explore seven buildings that haven't been featured previously. So even if you went last year it will be worth checking out again. This year's stops will include the Artisan Lofts on Central, Phoenix Towers, One Lexington, and Chateau on Central, among others. You can buy your ticket on the tour's Eventbrite page, or call 480-292-5083 for more information.
Attendants of the Phoenix Home and Garden Home Tour will get exclusive access to luxury custom homes.
Phoenix Home & Garden Home Tour
When it comes to the Valley's luxury homes and outdoor spaces, Phoenix Home & Garden's tour has the market cornered. The magazine will host its annual Tour of Homes on Sunday, November 8, from noon to 4:30 p.m. For $75, attendees will see some of the most epic gardens and a number of the most beautiful homes in the state. Those interested in an extended experience can pay $150 to add a 9 a.m. brunch and tours of additional homes to their day. Visit Phoenix Home & Garden's website for more information
Learn all about the first suburb of Phoenix at the Roosevelt Home Tour.
Roosevelt Home Tour - Roosevelt Historic Neighborhood
The Roosevelt District has truly flourished in the past few years as Roosevelt Row grows into one of the most artistic and active areas in the city. Its history proves it's always been a beautiful area, and you can experience it firsthand at the Roosevelt Home Tour. Luckily, you can still grab tickets to this month's tour of the most iconic homes in the area. On Sunday, November 15, The Historic Roosevelt Neighborhood will conduct a series of guided home tours between 10 a.m. and 3 p.m. Marshall Shore will lead two of the tours, and undoubtedly provide attendees with obscure bits of trivia. There will also be food trucks and a craft fair to occupy you between tours. Tickets are $11 online and $14 if you purchase them at the event. Proceeds go to neighborhood preservation efforts. Visit the tour's website for more information and to purchase tickets.
The Sunnyslope Historic Tour visits homes in Deer Valley and Paradise Valley
Sunnyslope Historical Society Home Tour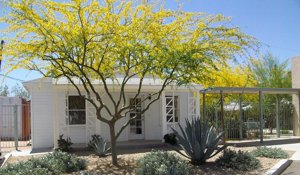 The 10th annual Sunnyslope Historical Society's Home Tour will take attendants through the town's history by way of bus and home tours. Stops on the this year's round include four Phoenix homes and one Santa Fe-style office building. The home tours are led by the owners themselves, who can share stories of past residents and architectural trivia. Tours will be held at the Sunnyslope Historical Society Museum at 737 East Hatcher Road on Saturday, November 21, and Sunday, November 22, between 9 a.m. and noon. Busses leave every hour, and the tours usually last around two hours each. Tickets are $35, can be purchased on site, and will benefit the museum. Visit the Historical Society's website for more information.
F.Q. Story Historic District Home Tour.
The F.Q. Story Historic Home Tour will look at homes between Portland and Latham streets that sit to the west of 7th Avenue. Though the namesake of the F.Q. Story Historic District never actually lived in Arizona, his successful California business ventures extended into the Valley of the Sun and earned him a spot in the history books. Tour Francis Quarles Story's old hood on Saturday, December 5 and Sunday, December 6 with one of the most charitable tours in Phoenix. You can buy your tickets the day of or online for $15, or $14 if you bring a nonperishable canned food with you to donate. Alternatively, if you can spare a few hours to chip in and help prepare the homes for the big tour, you will be rewarded with a free tour ticket. The tour will visit eight to 12 homes built between the 1920s and 1940s and ranging in style from Spanish Colonial Revival to English Tudor to transitional ranch and beyond. The Saturday evening tour will run from 6 to 9 p.m., and the Sunday tour and street festival last from 11 a.m. to 5 p.m. Meet at the corner of 11th Avenue and Portland Street. See the tour's website for more details and specifics.
Willo Home Tour- The Willo Historic District is the largest historic district in Phoenix with more than 900 homes in the area.
The Willo Neighborhood is the definition of quaint. Though Willo is the largest historic district in Phoenix, the cottage-style homes look like something out of a storybook and are a nice optical break from the impending cluster of industrial dwellings sprouting up around town. The upcoming Willo Home Tour on Sunday, February 14 will take ticket holders to numerous homes in the area by way of a trolley. There will also be a small fair with food and local vendors at the beginning of the tour, which will take place up and down Monte Vista and Holly Roads. Tickets are $15 until midnight on December 31, after which the price will go up. You can purchase tickets and find more information about the tour here.
Coronado Home Tour - This past year's Coronado Home Tour included 13 homes, more than 80 food trucks and vendors, and had more than 2,500
Each year, the Coronado District throws a huge community picnic in conjunction with its famed home tour. This year, the neighborhood will celebrate the Country Club Historic District — one of three subdistricts within Coronado — on Sunday, February 28. The stylish homes being featured are located on the blocks between Edgemere Street to 14th Street and Virginia Avenue to Monte Vista Road. Meet at Circle Park at 826 East Windsor Avenue before 11 a.m. to partake in the picnic festivities. The tour will last until about 4 p.m. Tickets are $13. Visit the Coronado Home Tour's website for tickets and more information. www.greatercoronado.com
Encanto Palmcroft Home Tour - The Encanto Palmcroft neighborhood boasts homes of many different styles, including Mediterranean, Tudor, French Cottage, and more.
Anticipation is the key to the Encanto Palmcroft Home Tour. It only happens every two years, but if you like riding on trolleys, local food fairs, and raffles with your home tour, it's definitely worth the wait. The next one will happen on Sunday, March 26, 2017. It costs $20 to attend and runs from 10 a.m. to 4 p.m. Expect to see plenty of romantic, 18th-century English-style homes on this tour. You can never be too ready for these types of things, so remember you'll want to park at Phoenix College and then head over to the block northwest of 7th Avenue and McDowell Road. Visit encantopalmcroft.com for more information.
REALTOR - Michael Chaisson, Realtor, RL Sotheby's International Realty— To enjoy this lifestyle and view homes for sale near any of these fun activities offered in Paradise Valley, Scottsdale and Phoenix please call Michael Chaisson at 480-450-4632
Docomomo Tours - Phoenix's Beth Hebrew Synagogue was one of the modern architecture stops on this past year's Docomomo Tour.
For the past nine years, Docomomo has worked diligently to bring attention to under-appreciated modern architecture. The organization's annual Tour Day brings participants to historic modern buildings in their city and provide historical context with each one. This past year, more than 50 cities nationwide recognized Docomomo's Tour Day, and the movement shows no sign of slowing down. No word on when the next Docomomo Tour is yet, but we would recommend going the next time it comes around. The most recent tour taught our staff about the hidden history in various office buildings and a downtown synagogue. Visit the organization's tour website for more information and to stay updated on the next Tour Day
Scottsdale Luxury Home Tour - Catch a glimpse at true extravagance with the Scottsdale Luxury Home Tour
Even if you can't necessarily afford the homes featured on the Scottsdale Luxury Home Tour right now, going and admiring will still give you a good opportunity to plan for the future. Or you could just go and marvel at how extravagant some of the properties in Scottsdale can get. There's a tour the third Thursday of every month, and for $10 you can enjoy a nice breakfast, see a few homes, and network with Scottsdale's finest realtors and homeowners. Home tourists meet for breakfast at the Ancala Country Club at 11700 East Via Linda Drive at 8:45 a.m., and then begin the tour shortly before 10 a.m. The event wraps up with lunch at the final home. No preregistration is required. Visit the Scottsdale Area Association of Realtors website for more information.
Windsor Square Home Tour - Find out why CNN loves Windsor Square so much on the district's next home tour
Windsor Square is known for being one of the original suburbs here in Phoenix and was recently deemed one of the "10 best big city neighborhoods to live in" by CNN. The Windsor Square Home Tour allows you to see about 12 of the district's 260 homes for $15. It's a self-guided walking tour, so wear comfortable shoes. The next tour will Sunday, April 3 and will last from 11 a.m. to 4 p.m. Tickets aren't available until December 1, but you can get more information on the tour's website. By Becky Bartkowski
Modern Phoenix Home Tour - The Modern Phoenix Home Tour will show you the works of numerous local architects.
The Modern Phoenix Home Tour sells out every year, so you may want to bookmark the tour's website to stay ahead of the game. Though 2016's neighborhood has not yet been revealed, the tour looks at some of the mid-century masterpieces across the Valley. Past tours have included the homes of Jimmy Eat World frontman Jim Adkins, a house designed by architect Paolo Soleri, and Ryan and Kylie Durkin's home. Tickets are $40 and usually become available in early February. By Becky Bartkowski
Mesa Historic Home Tour - Check out the FHA Demonstration Home — the first home in the area to be built with the government-granted loan — on the Mesa Historic Home Tour.
The city of Mesa has a diverse and complicated history, and its reflected in the architecture and homes you'll see on the Mesa Historical Society's Home Tour. Past stops have included the Fitch Farm House, the Antique Wedding House, and the Queen of Peace Church. The next tour hasn't been announced yet, but tickets usually cost around $20 and go toward museum upkeep. Find more information at the museum's website or by calling (480) 835-2286.
Estrella Tour of Homes - Catch a sneak peek at new properties in the West Valley with the Estrella Tour of Homes.
Every few months, the Estrella community shows off some of the newest homes in the Goodyear area. It's not for the faint of heart, however. The March tour featured more than 100 homes for guests to see. You'll see houses that vary in design and style on the Estrella Tour, but most will feature mountainous views and ample landscape for those who like to garden. Past tours have been free and open to the public. Check Estrella's blog to keep up on when the next tour is.
REALTOR - Michael Chaisson, Realtor, RL Sotheby's International Realty— To enjoy this lifestyle and view homes for sale near any of these fun activities offered in Paradise Valley, Scottsdale and Phoenix please call Michael Chaisson at 480-450-4632
Wickenburg Tour of Homes - The Wickenburg Home Tour includes some of the most historic homes in the state.
Wild West buffs can tour the historic homes of one of Arizona's most Western towns on the classic Wickenburg Tour of Homes. On Saturday, November 7, the annual event will tour iconic buildings of the small town that demonstrate just how much it's grown. Participants can see bits of the town's history like The Little Red School House, which now hosts musical concerts and good ol' Henry Wickenburg's home. You can also see the former home of George B. Upton, of the Upton Oil Co., and more on the tour, all for $25. The tour lasts from 9 a.m. to 3 p.m. and meets at the Desert Caballeros Museum. Coffee and a light breakfast are provided. You can find more information and reserve a spot at the museum's website. By Ron Reiring
Car Buffs
McDonald's ROCK AND ROLL CAR SHOW
This is the perfect destination to see classic cars and motorcycles. This free open-air event is complete with 50's era music provided by "Party Time DJ's." An average night showcases 250-500 cars and up to 150 motorcycles. Saturdays – CALL to verify times 4:00 PM to 8:00 PM
The Pavilions at Talking Stick Shopping Center 8800-9199 E. Talking Stick Way
Scottsdale, AZ 85250 Admission FREE (480) 443-0080
OCTANE RACEWAY
One of my favorites is the Octane Raceway at Indian Bend and 101. You'll find Kart Racing with a 1/3 mile track that's the only full-time Indoor/Outdoor track in the entire United States! The track layout is unique in that each lap begins indoors then winds through an outdoor section of the course before returning inside.
CARS AND COFFEE- SCOTTSDALE
One Saturday a month, this is the spot to see some of the coolest rides in Scottsdale. Enjoy
See site for latest updates and calendar https://www.scuderiasouthwest.com/smg/
INTERNATIONAL CAR SHOWS AND EVENTS - Check the Calendar – Scottsdale and Phoenix have large car shows throughout the year. Including Barret Jackson and MORE..
REALTOR - Michael Chaisson, Realtor, RL Sotheby's International Realty— To enjoy this lifestyle and view homes for sale near any of these fun activities offered in Paradise Valley, Scottsdale and Phoenix please call Michael Chaisson at 480-450-4632
GET OUT AND PLAY AT NIGHT
Best Party/Dance Spots for the over 30 – 40 and plus crowd
SCOTTSDALE'S Best Party Spots with dancing for the over 30 over 40 and plus crowd. Let's say ages 30 to young 60+.
You're never too old to party! You can still enjoy nightlife like a rockstar if you're over 30, 40 or 50. Here are some of our top picks. AND ...Please feel free to let us know what your favorite Scottsdale night-life spots i.e best fun & dance places along with lounges.
Casablanca Rooftop Lounge "An Elegant Cocktail Heaven" is how Casablanca Rooftop Lounge describes the experience of having a drink with them. It's a mix of the past and future, as they put it, with barrel-aged beverages and exotic cocktails. I describe more as a cool rooftop patio with a widely mixed crowd. Bar with a great DJ often live music playing Motown and Contemporary hits. http://www.thecasablancalounge.com/
Dakota's club Now, this is not for the faint of heart ..over 35 is fine, over 40 you are still in the mix! But be ready to remember dance clubs like when you were in your twenties. The club is located in old town Scottsdale and it has "cemented itself as the top club for the people who want an elevated dance party experience." The Dakota club attracts a more mixed aged crowd from 21 to 61 . Everyone looks great! Saturday night is packed. It is also popular place for drinks and for sports fans to meet. http://dakotabar.com/
Ocean Club - Mastros at Kierland and Old Town "Masterful," "high end," and one of the "top 10 steakhouses in the U.S." is how critics describe Ocean Club. It attracts the upscale crowd. Dining - Bar and small dance floor. If in South Scottsdale you will want to visit Mastro's City Hall both these $$$$ , but worth it for mix, mingle and food. https://www.mastrosrestaurants.com/Locations/AZ/Scottsdale-Ocean-Club/
Blue Martini is known as an upscale and contemporary, 'locals bar,' offering Happy Hour 7 days a week, Live Entertainment and themed nights such as "Industry Night" and "Ladies Night." Reviews for Blue Martini are great from dancing to the food. https://bluemartinilounge.com/
Rusty Spur Saloon This place is a plain blast if you like Country or even if you don't ….but want to meet all sorts of super fun people. Celebrities like Clint Eastwood, Vince Vaughn and Jennifer Anniston have all visited. It's a saloon so, not for the prudish. The band 's lyrics will sometimes make you wonder if you just heard what you thought you did. https://rustyspursaloon.com/
AZ88 Great place for "BEST martini in Scottsdale and cool contemporary vibe always new art exhibits. Dj in thehouse on the weekends. And the food here is really good ! http://www.az88.com/
ZuZu at Valley Ho Hotel This is a fun place for the over 35, 40 and 50 plus crowd featuring live bands. It's a nice place to meet friends and have fun. Live bands on weekends; call for schedule. https://www.hotelvalleyho.com/zuzu
Rock Bar. You never know what you will get at the Rock bar.. I used to love Wasted Grain for Old school 80tys live rock but since the remodel it's standard dj music. Soooo If you want to get your live rock fix on, Rock bar may just be the spot. Call for band schedules. http://rockbarscottsdale.com/
Kazimierz World Wine Bar This is a dark, enter-through-the-back-door live music lounging place that is a cool meet-up for a good time. Bands on the weekends, Low light so you can definitely go Incognito, Call it Kaz-meer-ehz, Kashmere or Kazbar — any of these names are acceptable. The bar offers over 2,000 wines plus classic and craft cocktails. http://kazbar.net/
W Hotel Bar- Scottsdale - The bar downstairs has live music on the weekends and the pool patio and dance floor have live DJ . Dress to impress and ready to dance. Very comfortable lounge seating upstairs and cool, eclectic upscale crowd. Only your Lamborghini or Ferrari's will be parked out front.
Handlebar Jays - " A really fun place to dance and listen to live music - Handlebar Jays in Scottsdale" and they have barbecue... Nice !! - Word is a little lots of folks mostly from 30tys to 70ty's have a good ol time at Handle Bar Jays.. Let me know what you think ..
REALTOR - Michael Chaisson, Realtor, RL Sotheby's International Realty— To enjoy this lifestyle and view homes for sale near any of these fun activities offered in Paradise Valley, Scottsdale and Phoenix please call Michael Chaisson at 480-450-4632
UBER... don't drink and drive be safe
Karaoke - The Grapevine restaurant and Bar is not your normal Karaoke bar.. this is party central with everyone signing along and some of the best pours in town. - UBER... don't drink and drive be safe
Bar - Party on a bike Put a unique twist on partying in Old Town Scottsdale with Arizona Party Bikes! Party on a bike with drinks see site www. Arizonapartybike.com This is a 'Mini bus bike" with about seven seats on either side of a LARGE bike with a bar in-between. I have never been… but every time I see the bike bar go bye everyone seems to be having a blast.
SCOTTSDALE AND PHOENIX – Have a vibrant nightlife.. if it's in New York, Los Angeles or Paris, we probably have it here.
ONGOING FUN ACTIVITIES
ART WALK – Old town Scottsdale _ Every Thursday Evening 6pm and On. Tour Many of Scottsdale
best galleries in Old Town Scottsdale .Everyone this is soooo much fun... either as a family activity (ages14 – 99) date night or to meet super great Scottsdale locals, Enjoy
Description: Celebrate an American original – the Scottsdale ArtWalk. This free event takes place every Thursday from 7 to 9 p.m. in Downtown Scottsdale. Restaurants, museums and free trolley and/or horse-drawn carriage rides are available during ArtWalk to transport folks from numerous free parking areas throughout the Scottsdale Arts District and Scottsdale Downtown.
Locations include Main Street from Scottsdale Road west to Goldwater Boulevard, and on Marshall Way north of Indian School Road to 5th Avenue. Oct 2018 Check schedule
CHOIR ANYONE?
If you love singing in the car... and dreamt of singing in a choir ... well here is your big chance and of course you can make some talented new friends.
You can participate in Choir Tonight at Sanctuary Choir- no audition needed, just a will and brave spirit. Everyone gets to participate. BTW, this is every Wednesday and for all ages. Call for more details (480) 948-1234 Music Rehearsal Room, 6300 E Bell Road Scottsdale, AZ 85254.
POOLSIDE AT THE HOTEL VALLEY HO.
Enjoy Happy Hour Fridays Poolside at Hotel Valley Ho. I have to share, this is a fun place to relax on a Saturday. Call ahead but the open the pool is typically open to the public on Saturday and they have a really nice staff that will bring beverages and food poolside. https://www.hotelvalleyho.com
FARMERS MARKET - Old Town Scottsdale – Every Saturday Morning Fresh Produce and sundries for the whole family. 3806 N. Brown Ave – see website for dates and Times http://www.arizonacommunityfarmersmarkets.com/FM_OldTownScottsdale.html
REALTOR - Michael Chaisson, Realtor, RL Sotheby's International Realty— To enjoy this lifestyle and view homes for sale near any of these fun activities offered in Paradise Valley, Scottsdale and Phoenix please call Michael Chaisson at 480-450-4632
ADVENTURE SEEKERS
HOT AIR BALLOON RIDES - Up for How Air Balloon ride at Sunrise. Or at another time of date. Enjoy the beauty of the desert from high above. Take a look at all the options at these sites. https://floatballoontours.com And 5 star rated https://www.hotairexpeditions.com/
ATV – DESERT TRAILS TOURS. When it comes to outdoor activities, Desert Trail Tours leads the pack as it boasts amazing packages and outdoor activities that both locals and visitors will find it hard to find somewhere else. Desert Wolf Tours have been ranked the Best Off-Road ATV Adventure Tour for six years in a row, Hit the OFF, off-road riding in Tomcars/Atv surrounded by beautiful natural Sonoran Desert with Tomcars. You can expand the adventure by participating in shooting competition or teaming up with others on a rescue mission and to pin down a hostage courier. All fun check out https://desertwolftours.com/
SCENIC FLIGHTS -Desert Splash Adventures offers scenic flights over the Sonoran Desert, Roosevelt Lake, and Lake Powell. Operated by Island Air Express, Desert Splash Adventures provides discerning guests with an exclusive and unique desert adventure experience from the comfortable cockpit of a Cessna Caravan Amphibious Seaplane. Highly experienced commercial bush pilots, who are based in Alaska in the offseason, fly the planes, and they guarantee absolute safety throughout the journey. Conveniently located near the Scottsdale Airport, an executive lounge provides a luxurious space to relax before the flight, which takes you over some of Arizona's most dramatic, breathtaking landscapes, ending in exhilarating water landing on Roosevelt Lake or Lake Powell.
Desert Splash Adventures also offers a range of other adventures ranging from gourmet brunches on a private island to canyoneering in the magnificent rock formations of the Sonoran wilderness. 15115 N Airport Drive, Landmark Aviation (FBO), Scottsdale, AZ, Phone: 877-588-8819 Check out their you tube video looks FUN !!
VIP AIRSOFT A indoor shooting pellet game excursion; Described in part by one guest as, "Once you are in the staging area, the staff divide you into two teams and explain the rules of the games that you will be playing. As each session lasts 4 hours, you get the chance to play quite a few games. Some games just involve shooting at the other team, while some have an objective such as capturing an ammunition case or controlling a "bomb" for the most time." For more information on this adventure
https://vipairsoft.net/
REALTOR - Michael Chaisson, Realtor, RL Sotheby's International Realty— To enjoy this lifestyle and view homes for sale near any of these fun activities offered in Paradise Valley, Scottsdale and Phoenix please call Michael Chaisson at 480-450-4632
ESCAPE ROOM- Challenge Game
Yes,there are escape games and the reviews sound like they are fun.. Here are two you may want to check out. https://riddleescaperoom.com/ 4.9 stars and https://escapetheroom.com/phoenix/ with 4.7 stars at last check. What is "Escape Room" ? It is a FUN game concept designed for small groups of friends, families, co-workers or strangers to test their problem-solving skills in a fun themed escape room. Each Escape The Room AZ experience has its own setting, secrets, storyline, and escape route. It's filled with hidden objects and clues to help you find your way out, You have 60 minutes to find the clues, solve the puzzles and escape the room to find your freedom!
HELICOPTER TOURS – You guessed it, a view from above to all your favorite places.. https://sunstateheli.com/
BEAT THE HEAT ACTIVITIES - GREAT WAYS TO COOL OFF!!!
In the summer, the heat is on along with the humidity and monsoon storms making it just not quite as fun to play outside. So if you do not want to unpack the 'slip and slide' or sprinklers; there are still plenty of fun things you can do in Scottsdale and stay cool!
OCTANE RACEWAY One of my favorites is the Octane Raceway at Talking Stick. You'll find Kart Racing with a 1/3 mile track that's the only full-time Indoor/Outdoor track in the entire United States! The track layout is unique in that each lap begins indoors then winds through an outdoor section of the course before returning inside.You'll also find mini bowling at the Octane Raceway. Mini-pins combined with a mini bowling ball equals Mini-Bowling! You've got to try it!
VELOCITY VR is another fun activity at Octane Raceway. Imagine a game that doesn't feel like a game. You're not wired to a console and your body becomes your controller. It's the real world and a digital one meshed together. You can choose from Zombie Outbreak Origins or Singularity. In addition, there's an amazing arcade, outdoor activities and the new Brickyard Grill restaurant. Could be fun on a date, date night with the Mrs. or the whole family!
ICE DEN - Here's a place you'll really get cooled off at. The Ice Den Scottsdale offers public ice skating and youth/adult hockey! Private lessons are offered. You can try your skills at figure skating or speed skating. Ballet classes are even offered since this technique helps in learning to figure skate. You'll also find a Pro Shop at the Ice Den along with a Health and Fitness Center and a couple of casual dining options. Check hours of operation.
ODYSEA AQUARIUM The Odysea Aquarium, in Scottsdale, is fun for the whole family or even you single folks. They're offering a couple of great deals right now. They're offering 10-dollars off each ticket if you buy online. Also, during the summer months, if you go between 5 pm and 8 pm, a general admission ticket is only $25! Adult tickets are normally $37.95 with kid tickets priced at $27.95.
SCOTTSDALE'S MCDOWELL MOUNTAIN RANCH AQUATIC CENTER Enjoy the Arizonian sun and sparkling waters at McDowell Mountain Ranch Park & Aquatic Center. You'll find a skatepark, four soccer fields and two ball fields. The aquatic center is a magnet for swimmers and divers, both young and old, and has several pools and play areas. The water slides, lazy river and spray pad are favorite spots for the kids and adults. Besides the park and aquatic center, the facility also has a state-of-the-art fitness center where fitness classes are offered. (Google latest hours and location)
MUSICAL INSTRUMENT MUSEUM Nothing like going to an air-conditioned museum in the heat of the day to stay cool. Get your culture on. The Musical Instrument Museum is open daily from 9 a.m. to 5 p.m. but also offers a variety of concerts in the evenings. Admission is $20. Concert admission is extra. (Google latest hours and location)
BIG SURF Just a little bit south of Scottsdale, in Tempe, is the Big Surf Waterpark. This is the closest thing you're going to get to an ocean. Built in 1969, Big Surf Waterpark is America's Original Waterpark boasting one of the largest wave pools in the world, Waikiki Beach. Nestled on 20 acres, Big Surf has remained an Arizona icon for over 40 years and features dozens of other thrilling water features.
DIVE-IN MOVIES, YES.. like a movie watching at the POOLYep, you heard right. A big screen by the pool where you can, in most cases, have a cool beverage, food nearby and enjoy a movie!!
REALTOR - Michael Chaisson, Realtor, RL Sotheby's International Realty— To enjoy this lifestyle and view homes for sale near any of these fun activities offered in Paradise Valley, Scottsdale and Phoenix please call Michael Chaisson at 480-450-4632
STAYCATIONS TOP PICKS - See below

If you're planning a staycation one of these weekends, a select few of these resorts are offering dive-in movies. And some of the most amazing amenities you can imagine from water parks to gourmet dining.
The Fairmont Scottsdale Princess
Four Seasons Resort Scottsdale
Hyatt Regency Scottsdale Resort
Spa at Gainey Ranch
The Phoenician
Westin Kierland Resort & Spa
Sanctuary Hotel Paradise Valley
Hotel Valley Ho
Here are a few more options to consider...
RESORT POOL PARTIES
Clarendon
Talking Stick
W Scottsdale
Valley Ho
Lustre Bar at Hotel Palomar
The Saguaro Hotel
PATIO BARS
The Vig
Pedal Haus
The Yard
Ocotillo
El Chorro
Timo Wine Bar
Different Point of View
The Windsor
The Montauk
OHSO
HAPPY HOUR ADVENTURES
TOP ** VERY BEST ** HAPPY HOURS IN THE CITY OF SCOTTSDALE.
RUTH CHRIS STEAK HOUSE First on our list is the world Famous "Ruth Chris Steak House" featuring a Prime Burger with Fries ONLY $9.00 Crab Beignets and Seared Ahi Tuna. YUMM.. One of the best parts of the Ruth Chris Happy Hour is the beautiful second-floor patio with outdoor fireplace, you can enjoy the sunset.
Wednesday Happy Hour. Feel Like a snack or glass of Wine after work.
Hump day - Wednesday- Happy Hour at Ancala Country Club
480-391-1000 3pm - 5 pm
Have a question for the Scottsdale Community or fun event or news, Please feel free to share.
REALTOR - Michael Chaisson, Realtor, RL Sotheby's International Realty— To enjoy this lifestyle and view homes for sale near any of these fun activities offered in Paradise Valley, Scottsdale and Phoenix please call Michael Chaisson at 480-450-4632
TOP HAPPY HOURS IN SCOTTSDALE DAY #2
KONA GRILL has got to be one of the Best Happy Hours in Scottsdale. Kona Grill has a huge Happy Hour menu with tasty treats from fresh sushi, delicious pizzas and.... the ever famous two hamburger sliders and fries meal...frozen margaritas and more !. Of course, there's great atmosphere on the big patio and it's located right at Scottsdale Fashion Square Mall, just in case you're in dire need of retail therapy. Enjoy! Share your favs in Scottsdale! We live in an amazing city. I hope you're getting out and enjoying it. Check out Kona Grill and great , fun staff , great opportunity to get out and make new friends.
TOP HAPPY HOURS IN SCOTTSDALE DAY #3
YARDHOUSE Happy hours are a great place to meet and make new friends at the same time getting a nice inexpensive meal. For example Yard House at Scottsdale Fashion Square is another great place to go for Happy Hour! It has an extensive menu of drink and food specials. HUGE 16 inch platter of loaded Nachos for 7.95; big enough for 2 to 4 and On Monday's, Happy Hour runs all night long! There's also a location in the North Phoenix at Desert Ridge Marketplace.Enjoy and have an awesome day ! Please SHARE your favorite places and activities !!
TOP HAPPY HOURS IN SCOTTSDALE #4 More events, "best places" and activities posted daily.
THE LIVING ROOM has been nominated as one of the TOP TEN Happy hours in Scottsdale for a super fun eclectic group of people, great food and for being cool and comfortable place to go. The Gainey Ranch Scottsdale location gets all 5 stars from visitors. We live in one of the nicest places in the world get out and enjoy!
TOP HAPPY HOURS IN SCOTTSDALE #5
FLEMINGS You wouldn't think a high-end steak restaurant would have a happy hour with great prices, however Fleming's does. From an amazing cocktail and beer list to amazing appetizers and small plates, you can't go wrong with this happy hour served in the bar. Oh, did I mention the dessert menu is equally long and inviting? Get out and mingle.
TOP HAPPY HOURS IN SCOTTSDALE DAY #6

THE BLUE MARTINI falls in the category of "It's soooo close to Scottsdale.. and so good we are making an exception in including it in our Best Of Scottsdale Happy Hours.
Lots of fun, fun music and a cool crowd makes it the perfect place for all of us living in North Scottsdale. Have fun everyone, remember to Uber if drinking.
TOP HAPPY HOURS IN SCOTTSDALE DAY #7
HULAS MODERN TIKI in Old Town is a stylish take on the classic tiki restaurants and bars of the 50s and 60s. Situated in a newly renovated building on First Avenue in the heart of Scottsdale, Hula's Modern Tiki is locally owned and operated and super fun– Call for specials
Please Share your favorite happy hour spot! Many more – please feel free to google.
HIKING AND FITNESS
REI
Yep, we have rock climbing. A variety of climbing courses will be available at the event lead by REI Outdoor School Instructors and popular top rope climbs of various levels will be set up throughout the event. There will also be a rappelling station and an anchors class. Snacks and beverages will be provided throughout the day.
Registration is encouraged and available on REI's website - https://www.rei.com/…/climb-fest-2-mcdowe…/scottsdale/193310. The $20 registration fee includes all the equipment you will need: harness, shoes, helmet and chalk. Participants are welcome to bring their own shoes and harness. Water and sunscreen will be provided as well. For more information about ClimbFest, contact AZ on the Rocks at Contact2@azontherocks.com or call 480-502-9777. For more information and schedule. These are previous post.
MUD RUN TRAINING- If you are ready for a physical challenge and not afraid of getting a little dust on your tuxedo this may be for you. PLEASE Google opportunities closest to you with the highest review and ratings. The ideas below are simply to inspire you and remind you of nearby opportunities. The link added here is a training guide and they may be a good resource for additional information. http://www.mudrunguide.com/training/
TOP HIKING TRAILS in Scottsdale- YEAR ROUND ACTIVITY
When the weather is cool, it is an especially GREAT time to hit the trails. Scottsdale has some beautiful trailheads you might want to go and enjoy our beautiful desert.
Many of them are found at Scottsdale's McDowell Sonoran Preserve that offers a beautiful backdrop of mountains and desert brush. The preserve offers five major trailheads with over 180 miles of trails.
REALTOR - Michael Chaisson, Realtor, RL Sotheby's International Realty— To enjoy this lifestyle and view homes for sale near any of these fun activities offered in Paradise Valley, Scottsdale and Phoenix please call Michael Chaisson at 480-450-4632
Sunrise Trail East - One of the more difficult hikes on the preserve, the 4-mile hike features steep sections and over a 1,100 foot elevation change. The trail goes right to the top for an amazing view of the McDowell Mountains in all directions along with gorgeous granite formations. 12101 N. 145th Way, Scottsdale, AZ 85259 www.mcdowellsonoran.org/hike/__trashed/
Tom's Thumb Trailhead - This Trailhead features three hiking paths: Lookout Viewpoint (5.7 mi. / 1100 ft. elevation gain), Tom's Thumb/East End Loop (11.1 mi. / 2500 ft. elevation gain) and Marcus Landslide (3.7 mi. / 300 ft. elevation gain). These trails are on the north side of the McDowell Mountains. 23015 N 128th St, Scottsdale, AZ, 85255 www.mcdowellsonoran.org/trailhead/toms-thumb/
Lost Dog Wash - The Lost Dog Wash Trailhead is just past Anasazi Elementary School and is one of the major access points for the Preserve. It features shorter and easier trails that go around a desert wash: Ringtail Trail (2.4 mi. / 250 ft. elevation gain), Taliesin Overlook (4 mi. / 350 ft. elevation gain), Sunrise Trail East (4 mi. / 1150 ft. elevation gain), and Old Jeep Trail (4.1 mi. / 450 ft. elevation gain). 12601 N 124th St, Scottsdale, AZ, 85259 www.mcdowellsonoran.org/trailhead/lost-dog-wash-sunrise/
Gateway Trailhead - Located on the east side of Thompson Peak Rd. between Legacy Blvd. and Bell Rd is the Gateway Trailhead. It's the access point to many unique Scottsdale trails. Featured at this trailhead are Horseshoe Loop (1.7 mi. / 100 ft. elevation gain), Bajada Nature Trail (0.5 mi. / 0 ft. elevation gain) and Gateway Loop (4.5 mi. / 650 ft. elevation gain).18333 N. Thompson Peak Rd, Scottsdale, AZ, 85255. www.mcdowellsonoran.org/trailhead/gateway/
Pinnacle Peak Park
Another Trail in Scottsdale is the Pinnacle Peak Park Trail starting near 102nd and Jomax Here is the link www.scottsdaleaz.gov/parks/pinnacle-peak-park
There is a lot of great hiking in and near Scottsdale another popular trail in Camelback Mountain here is a link to this popular trail near the center of the city www.phoenix.gov/parks/trails/locations/camelback-mountain/trails
BIKING PATHS -

BIKING PATHS – Check out these in Scottsdale (link below) and Google bike paths and trails for endless opportunities.
https://www.scottsdaleaz.gov/news/new-self-guided-bike-tour-highlights-scottsdale-scenic-mountain-views_s4_p25658
PARKS AND RECREATION
THE WEATHER HAS been Beautiful! So how about checking out the great parks in Scottsdale? The parks here are much more than green grass and blue skies. We have everything from volleyball to watersides and fishing, so grab a friend and enjoy!
The weather is beautiful unlike so many parts of the country and that lends itself to getting out and enjoying some great parks in our own backyard! Scottsdale is home to some of the nicest parks around that are great for taking a walk or bringing the family for a picnic. Below are just a few we recommend. Please feel free to chime in with others.
1) Scottsdale Sports Complex - Grab a group of friends for a game of soccer, lacrosse, football, or rugby. The 71-acre facility is a state of the art competitive sports field complex that also has a shaded playground, basketball court and multi-use paths. Reservations accepted March through December. http://www.scottsdaleaz.gov/parks/scottsdale-sports-complex
2) Scottsdale Civic Center Mall - Located near the center of Old Town it features a wonderful park like feeling with big waterfalls plus walking and biking options. Plus it's surrounded by great restaurants, pubs, museums and shops. http://www.scottsdaleaz.gov/pa…/scottsdale-civic-center-mall
3) The McCormick-Stillman Railroad Park is the most unique park of its kind in the country. Adults and kids can take a ride on the Paradise & Pacific Railroad. The 30-acre park also features shops, museums, playgrounds and a 1950-vintage Allan Herschell carousel. It's considered one of Scottsdale's most beautiful parks. http://www.therailroadpark.com/
4) El Dorado Park is one of the nicer parks in Scottsdale. What sets this park apart from the other is that it has two lakes where you can fish. Plus the 60-acre park has other nice features like a community center & gym, greenbelt multi-use path, swimming pool, three lighted ball fields, a lighted sand volleyball court and a wedge skate park. http://www.scottsdaleaz.gov/parks/eldorado-park
5) Chaparral Park also offers a lake with a fishing pier where you can both boat and fish. It also has a dog park along with a greenbelt multi-use path, 10-station exercise course, six ball fields and two sand volleyball courts and a he Scottsdale Xeriscape Garden at Chaparral Park is a National Wildlife Federation Certified Wildlife Habitat that features over 7,000 plants and 200 species. Fed by a vast underwater reservoir, the expansive 5.5-acre garden was established to protect and preserve regional plant species and provide an educational resource to raise awareness about local plant species and sustainable landscaping using reduced water usage.
Visitors to the garden can move around easily, following clear signage and an interactive plant guide that highlights the facts about the low-water-use plants and trees and water harvesting. The guide also gives excellent tips for caring for desert landscapes. http://www.scottsdaleaz.gov/parks/chaparral-park
6) Vista Del Camino Park. This 71-acre park is located in south Scottsdale and also has a dog park plus amenities like disc golf grass and sand volleyball courts, two lakes for fishing along with three softball fields. http://www.scottsdaleaz.gov/parks/vista-del-camino-park
7) McDowell Mountain Ranch Park. Feel like a swim? This 35-acre park has a heated competition pool, leisure pool, lazy river, water slide and splash pad all within its Aquatic Center. The park also has a skate park, fitness center plus soccer and ball fields. http://www.scottsdaleaz.gov/pa…/mcdowell-mountain-ranch-park
Other parks in Scottsdale include - see below

McDowell Sonoran Preserve - mcdowellsonoran.org
Cactus Park - http://www.scottsdaleaz.gov/parks/cactus-park
Pinnacle Peak Park - http://www.scottsdaleaz.gov/parks/pinnacle-peak-park
Mountain View Park - http://www.scottsdaleaz.gov/parks/mountain-view-park
Horizon Park - http://www.scottsdaleaz.gov/parks/horizon-park
REALTOR - Michael Chaisson, Realtor, RL Sotheby's International Realty— To enjoy this lifestyle and view homes for sale near any of these fun activities offered in Paradise Valley, Scottsdale and Phoenix please call Michael Chaisson at 480-450-4632
Animal Specific Parks and Adventures.
Southwest Wildlife Conservation Center - rescues and rehabilitates injured wildlife and releases them back into the wild, and it provides a sanctuary for orphaned animals native to Arizona. The center also provides education on the importance of nature and wildlife, as well as the role they play in our world.
The center is home to a range of animals, including black bears, bobcats, coyotes, jaguars, mountain lions, Mexican grey wolves, and porcupines, among others. Visitors to the center can enjoy - Walk with Wildlife tours through the facility and learn more about these fascinating animals. The center hosts educational programs, including Walk with Wildlife, Sunrise Nature Tour, Full Moon Tour, and Discovery Day, as well as several community-based outreach programs like PAWS 27026 N. 156th Street, Scottsdale, Arizona, Phone: 480-471-9109
PHOENIX ZOO. World Renowned -The Phoenix Zoo opened in 1962 and is the largest privately owned, non-profit zoo in the United States. Located in Phoenix Arizona, the zoo was founded by Robert Maytag, a member of the Maytag family, and operates on 125 acres (51 ha) of land in the Papago Park area of Phoenix. The zoo has over 1,400 animals on display and contains 2.5 miles (4.0 km) of walking trails. It is divided into four main themed areas or trails: The Arizona Trail (American Southwest flora and fauna), the Africa Trail (animals from Africa), the Tropics Trail (residents of the rain forests), and the Children's Trail, which includes a petting zoo.
*General review*
"Great Day at the Zoo. We were looking for something to do with our teen on the weekend. Decided on the Zoo. Display of animals impressive, habits nicely done. Appears to be a lot of new things coming soon. So impressed we signed up for a years membership as we left for the day! "
LAKES AND BOATING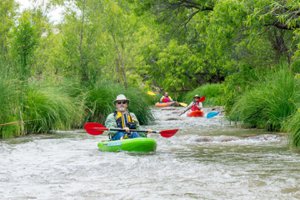 Yes!! We have several lakes and plenty of boating activities near-by. Many within a one hour drive!
Check out this site. https://www.boatsetter.com/locations/cities/phoenix
EDUCATION AND FUN CLASSES
PLEASE Google class opportunities closest to you with the highest review and ratings. The ideas below are simply to inspire you and remind you of nearby opportunities.
CYCLING CLASSES indoor– Fitness The Cycle bar – one reviewer said
"- Each class comes with a free pair of cycle shoes you can rent, a towel, a Cyclebar 32 oz water bottle, a good time and work out" norterra.cyclebar.com
GYMNASTICS CLASSES for adults and Children
MARTIAL ARTS -Classes
YOGA -CLASSES
COOKING - CLASSES
CPR CLASSES - SAFETY TRAINING
MOUNTAINEERING CLASSES -
PILATES
BOOT CAMP TRAINING
MASSAGE THERAPY TRAINING
BARRE CLASSES – Fitness
IMPROV Theatre – Yes you can take improv and it's fun.
FIREARMS TRAINING
BOXING CLASSES
CHILDBIRTH TRAINING
DRESSAGE TRAINING – HORSEBACK RIDING Classes. Phoenix has some of the best schools in the world for Dressage and Horseback riding.
DANCE – BALLET JAZZ and more. Some of the best coaches in the world are in the
Phoenix Scottsdale area and aspiring professionals travel from all over the world to study here.
and yes there are classes for the novice as well.
SWIMMING LESSONS
TENNIS
MUSIC LESSONS – ALL instruments
SINGING
MUD RUN TRAINING- If you are ready for a physical challenge and not afraid of getting a little dust on your tuxedo this may be for you. http://www.mudrunguide.com/training/
GOLF AND BEST COURSES
TOP SCOTTSDALE GOLF COURSES
The weather is cooling off and friends from the frozen east will be visiting, that means golf is going to be more fun than ever. We have some beautiful courses in our own backyard. Here are the top picks by me and USA Today.
1) TROON NORTH GOLF CLUB
Troon North Golf Club is known as Scottsdale's "crown jewel." Pinnacle Peak overlooks the two 18-hole courses — Monument and Pinnacle — that wind through scenic foothills and natural ravines. The course is famous for its ambiance, natural terrain and beauty. The fairways are immaculately groomed. http://www.troonnorthgolf.com/
2) WE-KO-PA GOLF CLUB
Located on the eastern edge of Scottsdale, We-Ko-Pa has stunning mountain views in almost every direction. Players with all skill levels enjoy the club. Enjoy desert wildlife on the Cholla course. Golfweek Magazine ranks the Saguaro course as #67 in America's top 100 modern courses. The two courses are also the #1 and #2 rated public access courses in Arizona. https://wekopa.com/
3) TPC SCOTTSDALE
You probably know this course as the one that's home to the Waste Management Phoenix Open, one of the largest-attended golf tournaments in the world. TPC Scottsdale is a favorite course of some of the sport's top players and recreational golfers alike. The course is surrounded by the McDowell Mountains and features two championship courses: the famous Stadium Course and the iconic Champions Course. https://tpc.com/scottsdale/
4) KIERLAND GOLF CLUB
Located at The Westin Kierland Resort & Spa, The Kierland Golf Club,is in the heart of "new" Scottsdale. It's set against the picturesque mountain ranges of the Sonoran Desert. The three award-winning courses have won numerous distinctions, including being named one of the best courses in America by Golfweek and Best Golf Shop 2011 by GolfWorld. http://www.kierlandgolf.com/
5) ORANGE TREE GOLF RESORT
This popular golf course in Scottsdale is on the site of an old orange grove. The course went green in recent years and is committed to reducing non-recyclable waste, water usage and for starting an active recycling program on the property. At the heart of the resort is the Parkland-style,18-hole USGA-rated championship golf course, a favorite with locals and tourists. https://www.orangetreegolfcourse.com/
6) MCDOWELL MOUNTAIN GOLF CLUB
Formerly the Sanctuary Golf Course, the new McDowell Mountain Golf Club is built on the western slope of Scottsdale's McDowell Mountains. Changes to the course include wider corridors, waste bunker additions, additional teeing areas and reshaping some of the fairways. http://www.mcdowellmountaingc.com/
7) THE BOULDERS GOLF CLUB
Natural desert terrain surrounds each of the holes and wrap around the immaculate fairways. The South Course is the main attraction, featuring impeccable fairways that manage to stay green even at the height of summer. http://www.bouldersclub.com/
8) LEGEND TRAIL GOLF CLUB
Legend Trail Golf Club offers a beautifully manicured 72 course that backs up against the Sonoran Desert, offering players some of the best views in Scottsdale, including Pinnacle Peak.The course is listed as one of the top 100 facilities in the country by Golf Magazine, and is frequently ranked among Arizona's best golf courses. https://www.legendtrailgc.com/
9) THE PHOENICIAN GOLF CLUB
One of Scottsdale's most popular golf destinations, The Phoenician is home to three courses: the Desert Nine, Oasis Nine, and Canyon Nine. The Desert Nine is the most popular course because of its unique layout, desert views and elevation changes. The Oasis Nine is a more traditional course, featuring tree-lined fairways and serene water features. The Canyon Nine is the most lush of the three courses. https://www.thephoenician.com/golf/
10) EAGLE MOUNTAIN GOLF CLUB
Located just outside Scottsdale along the scenic McDowell Mountains in the community of Fountain Hills is the Eagle Mountain Golf Club. Players get to experience one of the most scenic corners of the Sonoran Desert. The layout of Eagle Mountain also affords some of the most picturesque views of the Valley. http://www.eaglemtn.com/
11) CAMELBACK GOLF CLUB
While this great golf club didn't make USA Today's list, it should have.
The Southwestern style Camelback Golf Resort on Mockingbird Ln offers two championship 18-hole courses and a 36,000-square-foot pueblo-style clubhouse.
REALTOR - Michael Chaisson, Realtor, RL Sotheby's International Realty— To enjoy this lifestyle and view homes for sale near any of these fun activities offered in Paradise Valley, Scottsdale and Phoenix please call Michael Chaisson at 480-450-4632
INTERESTING FACTS ABOUT SCOTTSDALE
1. Scottsdale is #6 in working hardest in the nation? We need to get out and enjoy our local events a lot more! Keep balance Family, Friends, work and play.
2. FUN FACTS ABOUT SCOTTSDALE #101
A couple of weeks ago, someone asked 'How's dating life in Scottsdale?' Well, just in case you were wondering what the male vs. female population is, here are a few facts.
Scottsdale is 52% female with a median age of 47.9 and 48% men with a median age of 45.0 Scottsdale has an overall population of 227,471 including me. For more interesting statistical facts on Scottsdale, please continue to read my news post. Thank you. Michael Chaisson Realtor
3. SCOTTSDALE RANKS TEN TEN CITIES FOR QUALITY OF LIVING
I'm sure you already know that Scottsdale is a great place to live! But others think the same since the city ranks in the top 10 for Best Quality of Life.
REALTOR - Michael Chaisson, Realtor, RL Sotheby's International Realty— To enjoy this lifestyle and view homes for sale near any of these fun activities offered in Paradise Valley, Scottsdale and Phoenix please call Michael Chaisson at 480-450-4632
YEARLY EVENTS AND FESTIVALS CALENDAR
*Polo Play and Bentley's This is a blast every year in early November http://thepoloparty.com/
* Spring Training
* Barrett Jackson
* Scottsdale Film Festival
* Scottsdale Fashion Week
* And more - Google events Phoenix
ARIZONA Attractions
Waterfalls Beaver Falls
Though it may be quite a hike to get there, the astonishing beauty of Beaver Falls makes it worth the while. An 18-mile trek from the Havasu campground, the falls are filled with incredible pools and turquoise waters that cascade over limestone terraces. There are bolts, chains, and ladders to help you with your descent, and you'll pass a beautiful historic burial site for the Havasupai people on your way there. Once you're there, relax, take in the scenic view, and go for a refreshing swim in the refreshing pools. To visit Beaver Falls, you must already be camping at Havasu, which can be reserved with their tourism office.
Cibecue Falls visit to Cibecue Falls is a canyoneering adventure that lets you see a side of Arizona that can't be found elsewhere. Visitors can drive all the way to the trailhead; the drive itself is an adventure that takes you through narrow roads, past sheer cliffs, and along the gorgeous Salt River – you'll even have to drive over the running Cibecue Creek to get to the parking point. Come prepared to get your feet wet as you hike through banks and rocks to get to the 30-foot-high waterfall. It's an extremely peaceful and serene part of the desert and is wonderful for overnight camping
Havasu Falls
Located within the historic Havasupai Indian Reservation, Havasu Falls is also popularly known as Havasupai Falls. Hikers, adventure-seekers, and nature lovers have been going there for years to witness its overwhelming beauty. The hike to the falls is 10 miles long one way, but once you're there, the inviting blue-green waters make it worth your while. Go swimming in the paradise that is hidden amidst the Grand Canyon and have a rare, once-in-a-lifetime experience that will change your world. Prepare ahead as campground spaces must be reserved well in advance for a chance to visit the falls
Wolf Creek Falls
Often considered one of the area's best-kept secrets, Wolf Creek Falls is a more private and hidden waterfall that plunges 90 feet over granite cliffs. Getting there is fairly easy on the one-mile, round trip journey on Wolf Creek Loop Trail 384. Once you reach the creek, it's a short walk to the falls through easily-maneuverable boulders, small canyons, and fallen trees. On the way to the falls, you'll be able to see breathtaking views of the mountains, a historic mining site, and stunning flora and fauna, including various bird species. Don't forget to take your camera along as you'll definitely want to capture the crystal-clear waters of Wolf Creek Falls
Out Of Africa – Wild Animal Park - https://outofafricapark.com/
Nestled against the beautiful Mingus Mountains in the Verde Valley sits a wildlife park entirely different than any typical zoo or animal park. Here, you'll experience the splendor of the animal kingdom closer than you ever thought possible, blending the spirit of Africa with the harmony of nature. Whether it's the exciting shows like Tiger Splash® and Predator Feed, or an immersive safari tour that will have you surrounded by free-roaming African plains animals, or whether it's a hands-on, close encounter with the wiliest critters, there's something for everyone here – all with the price of admission! If you're feeling a bit more daring, try the world-class Predator Zip Line tour and soar over the animals. Other options include the VIP Behind-the-Scenes tour, the SuperMog Safari Adventure, Sloth Encounters, and more. Giraffe kisses are free! Gift Shop and Food available. Located just 90 minutes north of Phoenix and 30 minutes south of Sedona, Out of Africa lets you experience Africa in the heart of Arizona. Your adventure awaits!
REALTOR - Michael Chaisson, Realtor, RL Sotheby's International Realty— To enjoy this lifestyle and view homes for sale near any of these fun activities offered in Paradise Valley, Scottsdale and Phoenix please call Michael Chaisson at 480-450-4632
NEARBY TRAVEL TO SCOTTSDALE & PHOENIX
Phoenix has one of the best airports in the world with local and international flights leaving every few minutes. Phoenix is less than 1.45 hours from San Diego, Los Angeles and San Francisco and only 3 hours to Chicago – 4 hours to New York. So if you feel like you need a little extra adventure or want to spend the day in Newport Beach ...you can leave at 7am and be on your way to breakfast in Newport Beach by 8:35 am.
SPAS
There are dozens of Fantastic spas in the Scottsdale Phoenix area. TOO many to mention share all here in Scottsdale and Phoenix, however here are the top three most luxurious spas according to writer Katy C. For a particular Spa experience, please google "spa" plus the services you are looking for.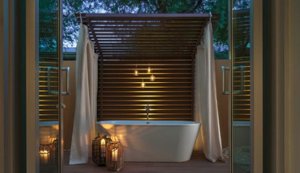 The Top Three Most Luxurious Spas in Scottsdale, Arizona
Scottsdale, Arizona is a beautiful place to visit, especially during the pre- and post-summer months when the weather feels like summer but isn't scorching hot. It's a golfer's paradise, with top-rated courses in every part of town, and with that there are also gorgeous hotels with spas you could spend days relaxing at. There are so many great spas to choose from in the Scottsdale area, many of which offer views of the nearby Camelback Mountain. Read on for three recommendations for the ultimate spa day.
Sanctuary Resort & Spa
The Sanctuary Resort & Spa, located in Scottsdale's Paradise Valley, is an award-winning luxury resort set right within Camelback Mountain, with unbeatable views in every direction. Whether you are staying there or not, visiting the spa at the resort is a relaxing experience you won't want to miss. There's a lengthy menu of Asian-inspired treatments to choose from, including everything from signature treatments, massages, skin care and body treatments, fitness classes, outdoor adventures and Satori wellness retreats. The Sanctuary Spa has twelve indoor and outdoor treatment rooms, a movement studio, an outdoor Watsu pool and the Zen meditation garden – and with all of that, there's no way you'll leave with one bit of stress. Because this spa has so much to offer, you should plan on getting there before your treatments and sticking around to relax afterward.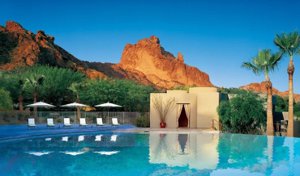 Signature treatment to try: Luk Pra Kope, which means "to massage with medicinal herbs." It begins with a foot scrub with Thai clay and fresh lime. Then your masseuse steams organic herbs and massages and presses them onto your body's energy pathways. You'll end up with soothed muscles, increased circulation and refreshed skin. If you're visiting with friends, the Girlfriend Getaway package is the perfect option for a full day of relaxation. You'll start with your choice of a 60-minute massage, then a 60-minute facial, and topped off with a mani-pedi, updo, blow dry and style for a night out on the town. And there are plenty of day packages with treatments for relaxation, rejuvenation, tranquility, motherhood, romance and more. And saving the best for last, the Satori Wellness Retreat, is a full journey with everything from fitness and spa services, to delicious meals and relaxation in your own casita.
The Spa at Four Seasons Resort Scottsdale at Troon North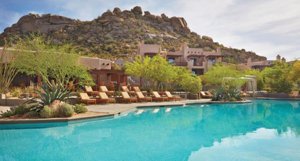 Send your significant other off to gold at the Troon North Golf Club and take the day to yourself at the Spa at Four Seasons Resort Scottsdale, located just down the street. Hidden within the beautiful landscape of this desert hotel, you'll enter the spa, which offers services including massages, body wraps, hair, makeup and nails – everything needed for a day of me-time pampering. There are several different packages that combine different massages, facials and other treatments, some of which also include a spa lunch. The Couple's Suite Indulgence is a must for honeymooners, and the Sweet Sixteen includes a makeup lesson that's the perfect post-facial treat for a teenager. If you're not staying at the Four Seasons, you can still get access to all of the resort's picturesque pools before or after your 50-minute spa treatment. The pool staff are incredibly attentive and will take care of you for the day.

Palo Verde Spa & Apothecary

The Andaz Scottsdale Resort – and Palo Verde Spa & Apothecary located within it – are brand new and are absolutely worth adding to your lists of destinations to check out in Scottsdale. The resort is a unique concept, with 200+ bungalow-style guestrooms and suites that make it feel like you're in your own private oasis rather than a hotel. The resort has stunning views of Camelback Mountain and the Turquoise Pool is the perfect place for sunbathing. The Palo Verde Spa prides itself on offering personalized treatments based on your preferences, using botanicals and natural aromatics from the local desert region.

Signature treatment to try: Camelback Custom Massage. You'll get to pick out an oil blend from the desert blending bar, such as wild chaparral or prickly pear, to be used during your 60- or 90-minute massage. The Citrus Splash is also a great option, as Arizona is known for citrus and this body scrub uses just that – a lemon body scrub, orange essence body souffle and a rosemary lime scalp massage. Can't decide which treatment you want and have time to spare? Go with the Andaz Package Work of Art, which will give you 20 percent off a combination of three treatment
Spa Story by Katy Cirrone
REALTOR - Michael Chaisson, Realtor, RL Sotheby's International Realty— To enjoy this lifestyle and view homes for sale near any of these fun activities offered in Paradise Valley, Scottsdale and Phoenix please call Michael Chaisson at 480-450-4632