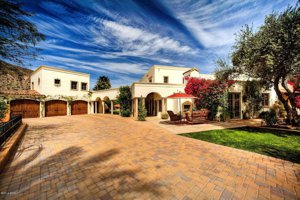 Whether you have a home for sale in Scottsdale or another nearby city, the market is changing in a good way. A reputable market index report noted says CMI readings for single family homes are higher than last month for sellers in 12 cities. Meaning the edge goes to sellers in those markets.
(A CMI Index score of around 100 is balanced in terms of supply and demand; much below 100 and you're in a buyers market (more supply than demand); much above 100 and you're in what we have today, a sellers market (generally more demand than supply).
The biggest improvements are in Scottsdale +10%, Queen Creek+8% and Cave Creek +28%. The Northeast Valley is also looking much brighter for sellers including those with homes for sale in Scottsdale; with Chandler cooling with a slight buyer advantage of 6%

When it comes to the upper end of the luxury home market with homes above $1,500,000, we're seeing a lot more active listings than a couple of years ago and definitely more than last year with homes in the price range between $1.5M and $3M increasing in inventory and sales slowing - 6% .

Oddly enough, We've seen an increase in the sales rate in the last year for homes over $3M, a huge improvement even since mid-2016.
Another price range that's doing well for homes for sale in Scottsdale, Phoenix, Paradise Valley and other cities are those in the price range between $500,000 to $1,500,000. Sales volumes have increased substantially this year and are starting to make a huge dent in the inventory. This is definitely good news for sellers!
Home buyers continue to notice a drop in days of inventory for more modest priced homes, and even homes in the 500 to 700 range are seeing a shorter supply and higher demand meaning pricing may inch up again. Sellers who take their homes off the market in summer are closing the store... not the best marketing decision. While other Phoenix Scottsdale Realtors may take the summer off, my home sellers are selling their homes at higher prices due to less inventory !! Luv it !
My goal is to be of service to you. I say it often but it cannot be said enough, " in real estate, there is a difference in Real estate professionals" For more tips on a 'best home buy" Please call me now at 480-450-4632.
Realtor -Specializing in Scottsdale , Arcadia and Paradise Valley Arizona
Michael Chaisson - Realtor
Russ Lyon Sotheby's International Realty
Premier Client Services
Ranked Top 1% Nationally
Circle of 26 Excellence Award Recipient
480-450-4632
Please feel free to browse this site for information on activities in Scottsdale, Arcadia and Paradise Valley (see resources Tab)and recommendations for the best restaurants and service providers in the community. I also encourage your recommendations.