Every year, the Consumer Electronics Show (CES) never disappoints. Right when you think that nothing new can be developed for your new Scottsdale home, more technology roles out.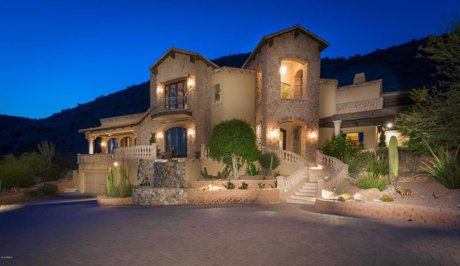 Whether you're looking to buy or sell your Scottsdale home in Terravita, Desert ridge, Old town Scottsdale or central Scottsdale you'll definitely want to keep up with the latest home tech products such as higher-resolution TVs and even refrigerators with built-in tablets.  Of course, upgrades are always being made in home security systems, smart thermostats, locks, and even lightbulbs. 
Here's what to expect in 2017 home technology.
Living room
Watching TV from the comforts of your Scottsdale home in Terravita, Desert ridge, Old town or central Scottsdale living room is only going to get better. Look for more 4K ultra-high-resolution displays not to mention curved screens. 
Aside from TV's, look for upgrades to smart thermostats, door locks, and the Home app and HomeKit. You can definitely count on more smartphone-controlled gadgets. 
Kitchen
All new homes with designer kitchens will have smart technology. New connected, Al-enabled appliances are expected to be coming out. Of course, there will be plenty of new gadgets to keep you occupied while you're cooking.  
Bedroom
Technology is even coming into the bedroom with mattresses getting smarter. For the little ones, there's "the world's first smart crib" and other high-tech baby monitors and gadgets.
Bathroom
When it comes to the bathroom in the home, apparently there's an app that'll pre-heat your shower before you even get out of bed. There are also upgrades coming to toilets and a way to control washers and dryers with a smartphone.
Garage & beyond
Self-driving cars have in the news last year. Expect to see more improvements this year in driverless cars. Then there are drones with new shapes and features. 
Installing smart technology in homes in North Scottsdale Terravita, Desert Ridge, Old town Scottsdale, Central Scottsdale is the latest trend. It could also add value to your home if you plan on selling in next 2 years, especially with the latest generation of home-buyers referred to as millennial's. High tech gadgets today will be the vintage items of tomorrow so weigh cost and benefit for you personally rather than long term return which will be zero to minimal if the technology is five or more years old when you decide to sell.
My goal is to be of service to you. I say it often but it cannot be said enough, "in real estate, there is a DIFFERENCE in Real estate professionals." For more tips on a 'best home buy" Please call me now at 480-450-4632.
Realtor -Specializing in Scottsdale, Arcadia and Paradise Valley Arizona
Michael Chaisson - Realtor
Russ Lyon Sotheby's International Realty
Premier Client Services
Ranked Top 1% Nationally
Circle of 26 Excellence Award Recipient
480-450-4632
Please feel free to browse this site for information on activities in Scottsdale, Arcadia and Paradise Valley (see resources Tab) and recommendations for the best restaurants and service providers in the community. I also encourage your recommendations.