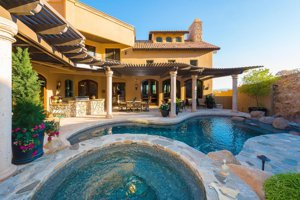 In 2017, there has been an explosion of newly licensed and part-time Realtors across the U.S. Many new and luxury home buyers all over the U.S. are hiring their buddies, former auto mechanics, fashion models and friend's wives to represent their interest in purchasing an asset typically valued at over a million dollars.
The average Luxury Home for sale in Scottsdale or Paradise Valley is typically priced between a minimum of $750,000 and $2,200,000; with Fine Residential Homes in Scottsdale and the greater Phoenix area priced at between $400,000 and $750,000.
Point being, an excellent Phoenix - Scottsdale Realtor is essential to ANY real estate purchase. A talented Scottsdale Realtor is far more important than most home buyers realize. Let's look at the top ten reasons, why hiring the best Realtor is one of the most important hiring decisions you will ever make. If you think all these items can be accomplished by a new or less than extremely TALENTED professional, you are very likely in line to lose thousands and thousands of dollars… and possibly risk lengthy legal entanglements.
The key factor in any professional is "talent" whether it's a plastic surgeon, a lawyer, a race car driver or a Scottsdale Realtor. There are many individuals in each of these fields but ask yourself this, "do you want an average plastic surgeon? An O.K Lawyer? Does the idea of investing in an average race car driver because you 'like' him or her… sound like a good idea? Do want an average Realtor? Or would you like the very best Realtor in Scottsdale representing you?
Top Twelve Items Phoenix Realtors Help Home Buyers With
1. Evaluate the 'comparative' value of the design, floor plan and location of home in comparison to other homes. This is different than a financial cost comparison. This quality takes years and years of experience to cultivate this knowledge and talent.
2. The best Realtor is able to assess when you have found the "best home for the money" versus simply agreeing to write an offer on a home you feel is nice. The difference being an experienced, honest real estate agent may say,'I see the features you like in this home and would be happy to prepare your offer, however… in the next few weeks there are likely homes that will be going on the market with these same features but on a better lot and/or price, etc.'
3. Patience, guidance, and knowing when to pull the trigger on the perfect home is the key and providing you the most accurate data on "market value" for the home you are interested in is my goal.
4. The most talented Scottsdale Realtor will then go through the contract, making sure the details are reviewed and each item is understood and acceptable to you. Any items of concern will be addressed in the additional terms and conditions section of a contract. In this section, there is also ample opportunity for experienced Phoenix Realtors to include legal language to prevent issues not benefiting you and include terms to benefit you during the transaction and after closing.
5. Once you have all the real estate market data, the best Realtor will ensure your financial and personal goals are met. Meaning, negotiate accordingly, using experience, talent, expertise, personal qualities to negotiate to your complete satisfaction… never leaving you feeling pushed but always in control, informed and having the "better hand". You should also never feel the real estate agent has any vested interest in the sale other than your goals. You should never feel he/she is trying to add a sale for their benefit.
6. The most talented Realtor will then go through the contract making sure the details are reviewed and each contract item is understood and acceptable to you.
7. Once in contract, the best Scottsdale /Phoenix Realtor will guide you through the inspection process, ensuring you have every inspection you want and making sure you have the top talent available for all inspections and any follow-up questions.
8. After there's a thorough review of the detailed inspections of the home, the best Realtor is there to mindfully address ALL your concerns; addressing all repair requests to your full satisfaction.
9. Write up the repair request to ensure there is the least likelihood of any ambiguity towards the request or how any repairs are to be addressed. This can be a significant issue if not handled perfectly.
10. While proceeding in contract, the best Scottsdale Realtor is in touch with the lender (if one) kindly reminding the lender your documents should be his /her top priority. In conjunction with this, the best Realtor is making sure all legal documents for the transaction are received by you and any questions answered. The Realtor will also make sure all escrow fees are reviewed with you and clearly understood and that you are receiving the best rate available from the escrow and title company.
11. Pre-closing. A Realtor will follow-up to verify all repairs are completed as agreed, verify time for your final review of a property and arrange an additional inspection of repairs if requested.
12. Lastly, the talented, experienced Scottsdale Realtor will be able to suggest cost saving moving tips, helpful advice on preparing for the move and review any enhancements you may be considering to increase the home's value.
Every step of the way the best Realtor is working in a professional and talented way to minimize your cost, protect your interest and enhance your equity position in your new home. All this is done with honesty, integrity and character.
Hiring the Right Scottsdale Realtor
My goal is to be of service to you. I say it often but it cannot be said enough, " in real estate, there is a difference in Real Estate Professionals" For more tips on a 'best home buy" Please call me now at 480-450-4632.
Realtor -Specializing in Scottsdale, Arcadia and Paradise Valley Arizona
Michael Chaisson - Realtor
Russ Lyon Sotheby's International Realty
Premier Client ServicesRanked Top 1% Nationally
Circle of 26 Excellence Award Recipient