Judson Estates Homes for Sale
Judson Estates in Paradise Valley is one of the premier gated communities in Paradise Valley, AZ.
Judson Estates is a gated community of multi-million dollar luxury homes located west of North Mockingbird Lane across the new Ritz Carlton Resort in Paradise Valley. Once through the manned gate, the Judson Estates community encompasses over 40 acres with 34 uber luxury estate size homes. Prices for homes for sale in Judson typically exceed the list prices you'd find in other gated communities. There are four reasons for the disparity in pricing - location, luxuries, lushness and lavish, estate style homes. Additionally, Judson Estates in Paradise Valley boasts a long list of impressive amenities including on-site 24-hour guard service, playgrounds, basketball courts and practice golf holes to name a few. Judson Estates began it's rise in 1999 when the famous Judson School campus was sold to Cachet Homes. In 2000, construction began for what is now considered one of the premier luxury communities within Paradise Valley.
Homes for sale in Judson Estates typically range in age between 2001 and 2005 with a very few newer homes being built in 2013 and 2018. The typical size home in Judson estates is between 8,000 to 10,000 square feet with one of the largest homes being over 26,000 square feet. Lot sizes for homes in Judson Estates are almost all well over an acre, typically ranging in size between 55,000 square to 70,000 square feet.
What is the future of Judson Estates? It is a prized Paradise Valley community but many of the homes are now considered "dated" and in need of remodels. As a result, luxury home buyers can expect to see more and more remodeling going on. Home buyers can also expect some of the older homes will be torn down to make way for new construction. Currently, homes for sale in Judson Estates typically sell for between 3,500,000 to 5,000,000 million.
To View Homes for sale in Judson Estates, Please call me at 480-450-4632 Michael Chaisson
Paradise Valley Residential Specialist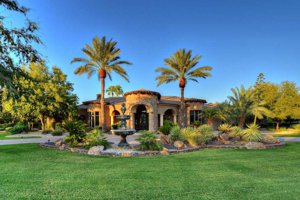 Interested in viewing some of the history of Judson Estates? SEE BELOW links to about Judson Estates Videos and pictures.
https://www.youtube.com/watch?v=GssAvzV4eMs
Vintage Photo of the Judson School and current site of Judson Estates.